One of the most important things to me when visiting a new country – alongside enjoying a hearty dose of local architecture and history – is to taste the traditional local cuisine. This is easier said than done on a limited student budget, but I was lucky enough this summer to travel through northern Germany with a half-German friend whose many family members and acquaintances were kind enough to share with me their own favourites, and treat me to some wonderful dishes. At the same time, travelling on a budget led me to try the cheapest food on offer at local supermarkets when feeding myself – effectively the German equivalents of Tesco value – and thus my trip included an enormous variety of tastes, value and quality, all making for a very diverse foodie experience!
Within hours of my arrival in Germany I discovered that the younger generation often have a serious lack of affection for their own nation's traditional cuisine; many individuals of a similar age to myself responded to my enquiries about their favourite German dishes by admitting they weren't keen on any! Instead they were obsessed with Italian food. Although European cuisine is also popular in Britain, in my experience the British retain a greater affection for traditional English dishes, from Fish and Chips to Bangers and Mash. I visited 6 cities in Germany and all overflowed with pizza restaurants, and – just as disheartening to a traveller seeking what quickly appeared to be somewhat elusive German dishes – MacDonalds.
Despite the trend towards foreign evening meals, I did encounter a continued affection for the traditional continental breakfast. Many displayed a hearty passion for long and extended breakfasts with all the trimmings. A far cry from my repetitive bran-flake-based breakfast, I frequently indulged in ham, cheeses, piles of fresh rolls (made from of a vast variety of breads), multiple spreads, eggs, pancakes, salmon, fruit and croissants. Consequently I started almost every day of sightseeing absolutely stuffed to the eyeballs!
Furthermore, it seemed a German tradition to continue eating a variety of bread substances throughout the day; you frequently saw someone strolling down the street with a large half-eaten pretzel in hand. Fresh German pretzels are a long way from the small, bland snacks I previously associated with the name. They are enormous, with a chewy, dark brown coating and soft, doughy centre, most frequently topped with large chunks of salt, or layered with sliced almonds or seeds. Many bakeries were strung with a vast number of these iconically shaped snacks.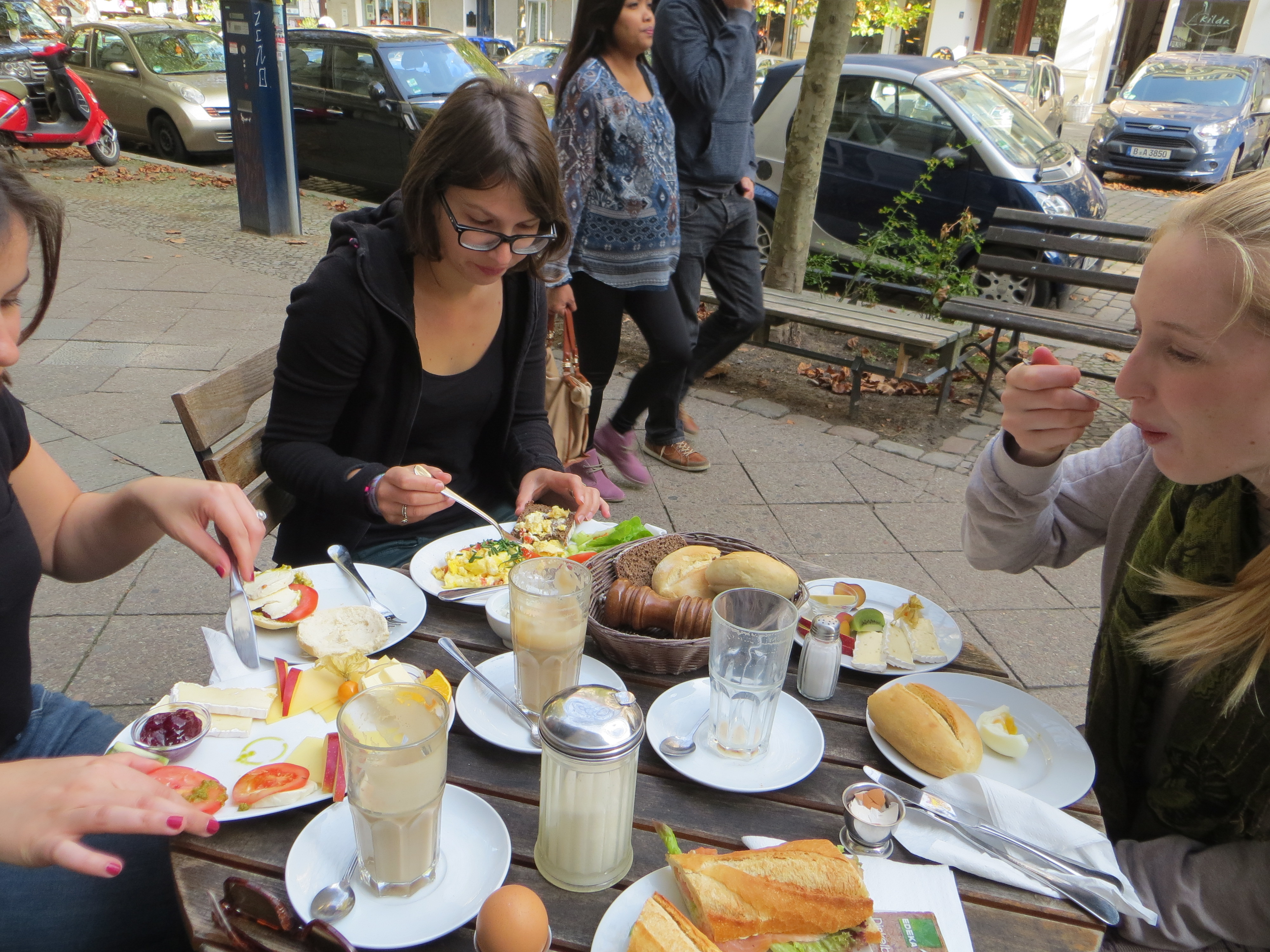 Beyond breakfast, however, due to my poor knowledge of what constituted traditional German food, I was left at a loss, only able to think of seeking out the dish so loved by Maria in The Sound of Music; 'schnitzel with noodles'. Enquiring about traditional German dishes, however, proved more productive with older generations. I was lucky enough to be staying with a family which stuck strongly to a foodie tradition – and fortunate to be staying with them in the season in which it is indulged! In the autumn, with an abundance of zwetschken in the markets (dark purple plums), they all enjoy making and eating a vast number of zwetschken knödel. Not only did I get to eat them, but help cook them. First, one makes a thick, sticky bread dough before leaving it to rise. One then removes the stones from the zwetschken, replacing them with small sugar cubes. The risen dough is then wrapped around the halved, stuffed zwetschken, and the resulting balls are boiled in water. At the same time a very sweet kompott (made from remaining zwetschken) and cinnamon butter are made, both of which are drizzled over the boiled zwetschken knödel when brought together on your plate. I will admit, though I heartily enjoyed participating in making and eating a traditional dish, I found zwetschken knödel to simply combine rather tastleless soggy dough with unbearably sweet kompott!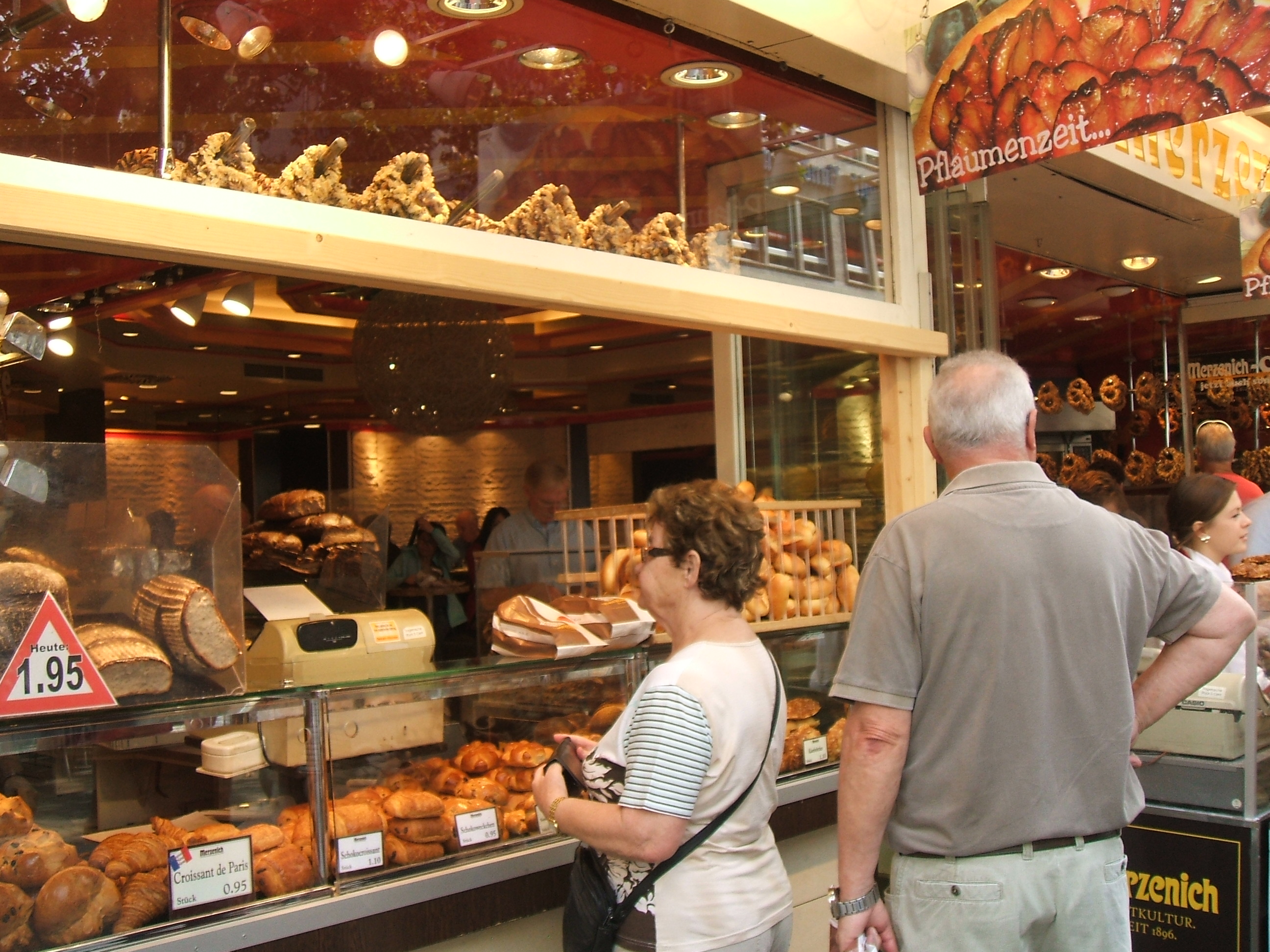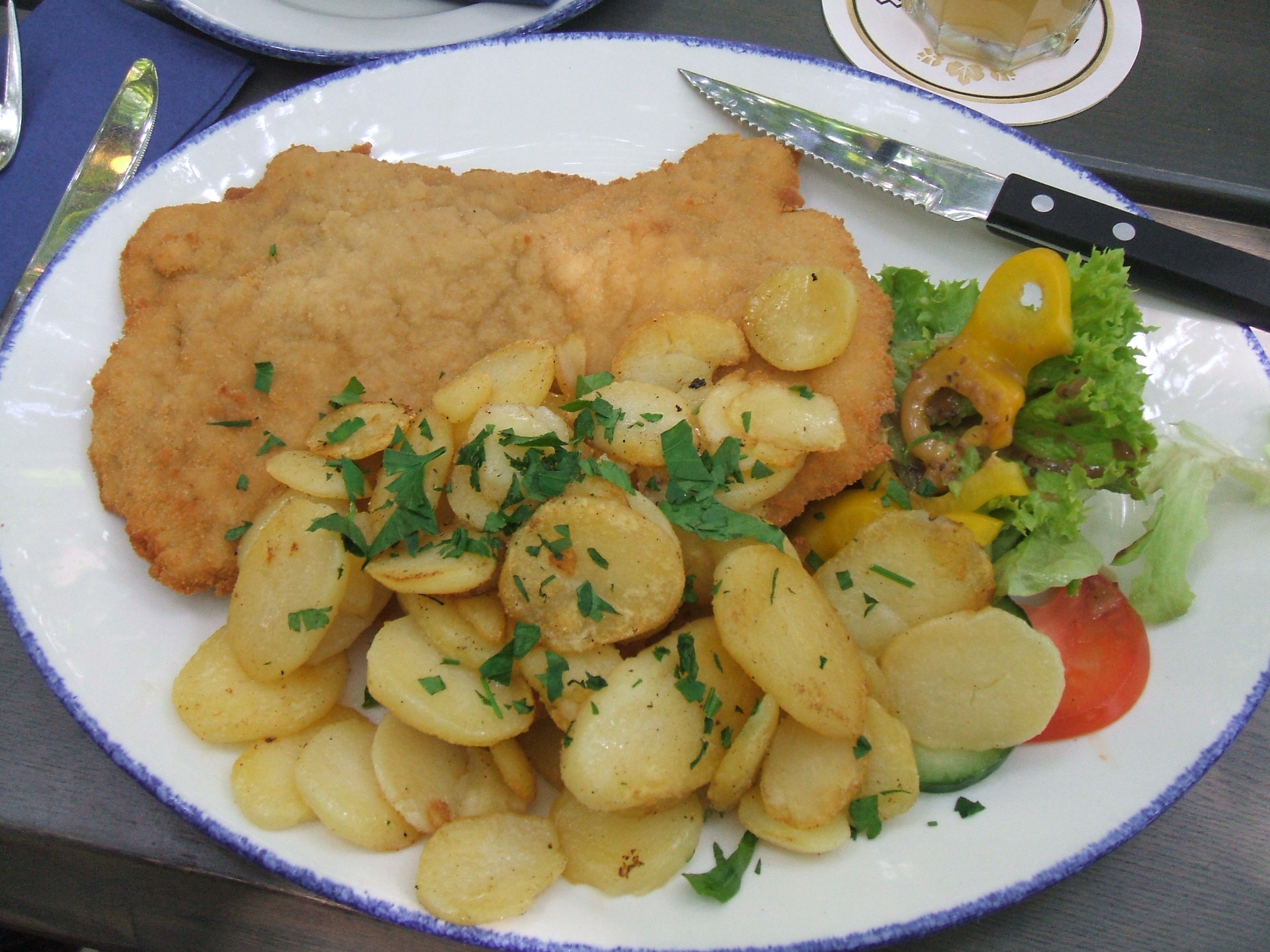 Whilst indulging in these dishes when the opportunity arose, when feeding myself I scanned German supermarkets for the best value I could find, which led me to try items not usually found in a tourist's diet! Seeking something 'vegetably' to counteract the vast amounts of bread I had been eating, I sought out vegetable soup and ran across enormous tins of 'Gut und Günstig' eintopf (German for a thick soup) priced in the region of 70 cents. The first I tried was basically mushy peas (and I don't like peas…) The second was more successful, as I managed to pick one consisting largely of green beans. My dedication to a bargain and consumption of the 'Gut und Günstig!' ('good and cheap') brand was to horrify some of my German hosts, but I thoroughly enjoyed seeing what food was offer in Germany beyond the tourist-beaten track!Another find, common to all the German supermarkets I visited (a fair few!), but something I have never encountered before in British, Italian, Spanish or French supermarkets, was fresh boiled eggs dyed a variety of shockingly bright colours! My delight and fascination with these colourful creations even led to me being given some as a present, since my birthday fell within this eventful tour of Germany.