The absurdly named 'Big Cheese Tour' was in Newcastle on Tuesday 14th October, and I was there to both review the gig and interview co-headliners Lonely the Brave. I'll freely admit, I approached both tasks with some trepidation – I'd never interviewed a band before, and I like being able to review music after repeated listens, an obvious impossibility with a live show. But you do what your editor offers if it pays the bills. Or, you know, gets you a free ticket to a gig.
It's a typical autumnal day in Newcastle as I'm let into the O2 through the stage door by Cambridge band Lonely the Brave's press guy. Inside, I'm introduced to bassist Andrew 'Bushy' Bushen and guitarist Ross Smithwick. The main hall is busy with people kicking a ball about, while upstairs a soundcheck is taking place. However Bushy and Ross say they have found somewhere vaguely quiet – we end up standing halfway down a flight of stairs to the basement, faint sounds from above bouncing tinnily off the concrete around us.
I'm here to see the band live, so I start by asking the pair which of the many support slots they've played was their favourite. Having opened for Deftones and Black Rebel Motorcycle Club, as well as numerous festival appearances, they've got a fair number to choose from, but Ross is in no doubt. He immediately chooses Neil Young because, "Well, it's Neil Young. There was a huge crowd. I don't think his fans got us too much, but we definitely won a few people over. But that's the thing – there was a big crowd there, and they were there for Neil Young, so it's fair enough." Bushy is of differing opinion, going for Bruce Springsteen – "He is The Boss after all. But you mentioned Deftones as well, that was another massive honour. So yeah, we've been very lucky with the support slots we've got."
Lonely the Brave have toured extensively over the last three years, including their first headline tour in January this year. As I ask about their craziest or best moments from those months on the road, Bushy starts to laugh. "Crazy moments? Hmm, there've been a few, but what can I say here, that's the trouble? I'm going to have to go with our album launch recently at Dingwalls. It wasn't officially part of a tour, but it was probably just a really kind of special moment for so many reasons." Ross agrees that for them, it felt like the culmination of their journey over the last few years. "Everyone was there, everyone was on our side, all the fans – the fans were amazing that night. It was definitely a special night."
Although the band released their debut album The Day's War this year on the 1st September, they actually recorded it in 2012, spending all their money on it. The official press release describes how they slept in the studio during the recording, only showering in the local swimming pool every other day because they couldn't afford to do it more frequently. I ask them why, having put in so much effort to get the album recorded, they took so long to release it. Bushy explains, "Well to start with, we didn't know if it was going to have a label at all – we didn't know whether we'd release it ourselves or obviously hopefully pick up a deal for it. And then Hassle Records came along and they were going to release it in June originally this year. Then because Columbia came along, they wanted to put it back three months so they could work a bit of their magic with it. At one point, we thought "Yeah, we'll just release it ourselves". Then Hassle came in, and we started touring and stuff on the back of signing that deal, so it had to progress at its own pace – rather than just get the album out straight away, we wanted to get things going a bit." The getting things going involved another single release, more festival appearances and more touring. With the album reaching No. 14 in the UK album charts, it's a ploy that appears to have worked, and Ross agrees. "I think even if the album had gone out in June, it wouldn't have reached as many people as it did after waiting till September – it was definitely worth it."
I mention that of all their material released before the album on singles and E.P.s, there is only one song that didn't make the cut for the final album tracklist – "Hope There's Someone". Bushy explains their reasoning behind it simply – "It's a cover version, by Antony and the Johnsons originally. It would be a bit strange for a debut album to have a cover on, because you want to present yourselves with a debut album. It's an amazing song, and I really like the version that was done, but The Day's War was kind of a summation of what we've been working towards as a band over the years, so I think it had to be left out for those reasons."
I decide to move more into the realms of fantasy. The band are used to questions about their album and gigs, and I promised them something different, so I ask who, from all of musical history, they would get to appear on their next record if they could. Ross, with a sly look at Bushy, responds immediately. "Bushy's not going to like this – he knows what I'm going to say. I'd have Jeff Buckley like that. Imagine the vocals with him and Dave – come on, you've got to admit that would be good Bush." As he laughs, Bushy responds with a rather unenthusiastic maybe – "I'd have to hear it". He then plumps for Jim Morrison [of The Doors, for those who don't know]. Ross is much more pleased with Bushy's choice than Bushy was with his – "Oh the three way harmonies, Jesus they'd be good." Bushy then realises that both are vocalists, and decides he should choose a bassist as well. "Flea! Get some slap bass on there, why not. They never let me do it, so Flea."
I then ask them both what their Desert Island Disc would be. Ross again plumps for Jeff Buckley without a moment's hesitation, choosing his album Grace – a choice shared by the band's other guitarist, Mark Trotter. "It's literally my favourite album of all time. It's not even the best album – I do like other albums more than that, but it's just got a massive thing about it for me." Bushy also has no trouble making a quick decision – "I'd go for Ten Silver Drops by The Secret Machines. It's just always been one of my favourite albums since I heard it."
To wrap things up, I have a final question for the pair about how the band came about with their personal description of their music as 'doom-pop'. Bushy gives me the story of how they got the name from some tour-mates. "We toured with Don Broco and a band called Bad Rabbits towards the end of last year. One of the guys from Bad Rabbits coined that phrase for us – it was just what he heard when he heard our music, and we thought, "Yeah we like that, we'll stick with that one definitely"." Ross agrees with the description, describing it as, "Pretty spot on."
As I wrap up and thank the guys for their time, I'm impressed by how down-to-earth and likeable they both are. The whole band has been kicking around the Cambridge music scene under various monikers for a number of years, but the relatively quick success of Lonely the Brave doesn't seem to have had much effect. They're comfortable in themselves, and just seem pleased that everything's finally starting to click for the band in a big way.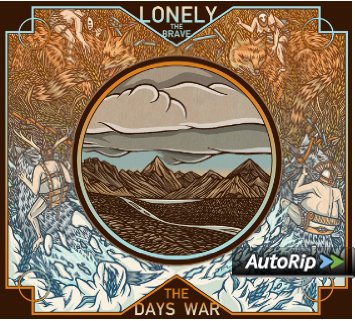 There were a few hours between the interview and the gig, during which time I colonised 'The Town Wall' in Newcastle. There was beer. It was good. I recommend the pub. It's not the subject of this article. Let's move on.
The support for The Big Cheese Tour is Allusondrugs, a five-piece band from Yorkshire who describe themselves as just "alternative rock". After hearing their live set, I'd say they're more grunge with some hardcore vocals thrown in for good measure. With an on-stage performance driven by their vocalist Jason Moules, dressed in what looks like his mum's jumper and conspicuously stoned, he does his best to channel Kurt Cobain with roaring vocals and furious headbanging. Coupled with the crunching, hard-hitting guitars, abrupt finishes and short, punchy songs, it makes for a frantic, twenty-five minute, eight song set.
It's not really my kind of music – noise trumps melody far too often, while instrumental work is far from exemplary – and while it doesn't seem to fit with Lonely the Brave's material, it gets a good reception from a large portion of the crowd. Highlights are "I'm Your Man" – a song showcasing that underrated musical talent known as playing a tune – and the absurd call-and-response sequence in the middle of the set where the crowd responds somewhat bewilderedly to Moules's request for them to scream 'Herpes!' at him repeatedly.
Disclaimer – I listened to a chunk of Allusondrug's studio output after the gig, and it's cleared some things up for me. First, their live show's a damn sight worse than their studio stuff in my opinion – I can actually understand why they describe themselves as alternative rock on record, and although there's still a heavy grunge influence, it doesn't dominate, and the vocals are infinitely improved as a result. Second, I can see why they would support Lonely the Brave – some of their slower songs go down a similar spacey, guitar-led route.
As Marmozets, co-headliners and the second act on tonight, come on stage to the sounds of a screaming voice and launch into opener "Born Young and Free", it's immediately apparent that they have more in common with Allusondrugs than Lonely the Brave. Filled with a bouncing energy, the band play a nine song set of strong alternative rock, all pulled from their debut album. The eye's immediately drawn to vocalist Becca Macintyre, who stares almost angrily into the crowd as she sings, her face displaying raw emotion.
Although "Born Young and Free" begins with more screamed vocals, my fears of another set based purely on that are banished as it moves into some more passionate vocals over a stabby guitar part. The crowd joins in with the guys on stage for the first time on the next song "Particle", the huge chorus lifted by the sheer weight of massed voices. The band display a bit more versatility over the next few songs, varying dynamics and influences effectively – "Is It Horrible" is QOTSA-esque, while "Captivate You" has shades of the Editors in its riff.
A good half of the crowd are visibly psyched for the Marmozets, joining in enthusiastically with every song and really improving the atmosphere. The band respond in kind, with "Why Do You Hate Me?" not even spoilt by the unimpressive and pointless guitar solo. The whole room starts to vibrate as the drummer, Josh Macintyre (Marmozets consists of two groups of siblings – vocalist Becca, guitarist Sam and drummer Josh are Macintyres, while bassist Will and other guitarist Jack go by the name Bottomley), stands up on his drum stool and brings his sticks down the extra few feet to get "Move, Shake, Hide" rocking. Finishing with the strobe-heavy, sweaty band break down of "Vibetech", it's clear that the band know their stuff and deserve a bigger audience.
The split in the genres of the headliners becomes more apparent in the gap between Marmozets leaving the stage and Lonely the Brave coming on – a small but noticeable part of the crowd quit the venue, while a lot of those who were at the back push forward for the final act of the night.
The on-stage presence of Lonely the Brave is very different to the other two bands. This is partly down to vocalist David Jakes's personal preference of standing at the back of the stage, between the drums and the rest of the band. Not even facing, the audience, he seems almost awkward, and this extends beyond the performance – guitarist Mark Trotter does the majority of the crowd interaction, while Jakes is the only band member not to meet fans at the merch stall after the gig's finished. But it's not just because of him that the vibe's changed – the headbanging is down several notches compared to the previous bands, while the lights are no longer flashing frantically.
The band lead off with the atmospheric "Call of Horses". For the first time tonight, the vocals are mixed nice and high, and it gives Jakes's emotional lyrics more resonance. The Day's War is a huge record, full of swirling guitars and soaring vocals, and this comes across well on stage. The echo-y, eighties-era-Edge-like guitar hovers just under the vocals, while the whole performance is powered by the insistent, pounding bass and drums.
The new crowd dynamic takes a while to get going. The first big lift is felt in "Kings of the Mountain", one of the stand out tracks from the album. In the live setting, there's a huge boost in the on-stage energy and lighting as the most Biffy-esque chorus of the night so far is finally taken up by the crowd. But it's not until set closer "Backroads" that everyone is once again singing with full voice, carrying the band along with them to the rousing finish. Even the cut-out of Jakes's mic at the end of the song doesn't deter the crowd or detract from the atmosphere and performance.
There is one major problem with the set though – it's too damn loud. Lonely the Brave, like Biffy Clyro, play a brand of rock that deserves to be heard in huge venues. But the O2 Academy is not one of those rooms, and the band's engineer needs to have that pointed out to them – at times, the volume is so intense that everything merges into one big smear of sound, drowning out vocals and interesting guitar parts alike.
I don't want that to detract too much from my impression of the gig though. Both headliners played strong sets, mainly drawn from their respective debut albums, and both should go on to bigger and better places. But maybe they should choose more appropriate tour mates in future.
Lonely the Brave's debut album The Day's War is out now on Hassle Records. Marmozets debut album The Weird and Wonderful Marmozets is out now on Roadrunner Records. Allusondrugs's debut E.P. Allusondrugs is out now on Clue Records.