Ever dreamed of journeying to Lapland? Well, you can actually make that dream a reality, and on a student budget, thanks to "Scanbalt Experience".
Scanbalt Experience is an Estonian tour operator dedicated to group tours for students and other eighteen to thirty-year-olds. The head office is in Tallinn, the capital of Estonia, but Scanbalt operates in many European cities across Northern Europe.
At this festive time of year, I wanted to get a flavour of the unique Scanbalt Experience for you, my adventurous reader. So I've gone to the ultimate source: company founder Kristofer Andersson. Kristofer kindly answers my probing questions below.
Who knows? If you like the sound of Scanbalt, next year you could find yourself sipping crystalline vodka in the hot tub of a glistening ice hotel set against the silken ribbons of the Northern Lights.
Kristofer, what led you to set up Scanbalt in the first place?
I started studying tourism at university in Sweden, but I'd always been interested in travelling and setting up my own company; I travelled a lot as a student and got inspired by different hostels, guided trips, etc.. Then I went on expeditions in Scotland with Macbackpackers (a backpacker tour operator) and thought we could run a similar initiative in Scandanavia.
What are the different tours you offer?
Lapland winter tours, Norway adventure trips, and Russia are the main destinations. But we've now started more trips around Europe including Spain, Scotland, and, from this year, Ireland. We have a few trips that we do in cooperation with other likeminded companies, such as the boat trips in Croatia.
Describe the process of setting up a new tour from scratch.
If it's a new destination I will sit with a cup of coffee and a map for an hour. Then I will begin to draw up multiple drafts, request offers from hotels, bus companies, etc.. Based on offers and collected info I make changes to the drafts to create the final product.
If you had to use three words to describe the ethos of your company, what would they be?
Trustworthy, affordable, vision.
Your prices are extremely reasonable. Why did you choose to create a low-budget company?
Scanbalt is more of a social business and could have been a volunteer organisation really. It is first and foremost about creating good trips for travellers, and I knew more about the needs of this target group than others.
What are the criteria you use in sourcing food and accommodation?
We do not search for easy solutions. Even for Lapland and Russia, where we have a larger volume of suppliers, we work with many different hostels and camps rather than several huge ones; that would be convenient for us but undermine the experience for the traveller. We love working with local companies and developing local economies. In Lapland we work with a Sami family who partly use the income from us to maintain their traditional life with reindeers.
On a Scanbalt tour, is the emphasis on culture, physical activity, nature, or partying?
We mainly have two tour categories; one is with a focus on nature and adventures, like Lapland winter trips, and the other is weeklong sightseeing tours with more focus on cities, culture, and partying. We also do weekend trips, party cruises, and ski, and soon surf, trips. We like trips where the passengers have the possibility to choose if they want. We are quite different from other student travel companies since 80% of the travellers go on trips including several destinations across five–nine days. Not the traditional weekend trip. But that of course has to do with the price level, since students can go on a trip to Lapland with us for €330 or the nine days Baltic tour for €300.
The Scanbalt team is a mix of lots of different nationalities —was this a deliberate move?
Partly, yes, but I mostly looked at the skills and experiences when putting the team together and the mix is a result of that. Dealing with Russia is much easier for someone who speaks Russian and understands the culture, so a Russian speaker will have that responsibility.
Where do the majority of students who go on Scanbalt tours originate from?
Mostly the big countries in the EU: Germany, France, Italy, and Spain, plus Scandinavians. We do have students from the UK as well, and student clubs in the UK have started to travel with us. The trips in the Baltics and Russia are especially popular among them.
Do staff and students socialise together on the tour?
Definitely! That's part of the job and tour managers should do it because it's fun, although at the same time we want the tour guides to be professional and responsible leaders.
Are most conversations held in English? What are the other main languages used on your tours?
We have a few trips in Scandinavian languages but besides that it's always English.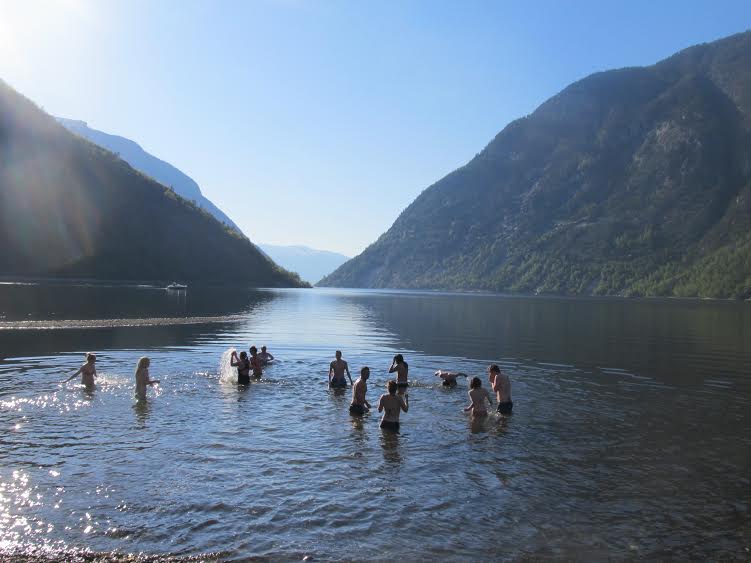 What do you do to break the ice with students on the first day of a Scanbalt tour?
On trips attracting people travelling individually often not very much is needed. Most individual travellers want to meet other travellers, so you just need to give them the possibility to socialise. That's a reason why we often prefer hostels with good common areas and maybe a bar because it's easier to meet there than in a hotel. On a bus shorter interviews with some passengers could be a good idea, or when in smaller groups everyone might have a moment to introduce themselves.
Do people tend to arrange to go on the tours individually or in pairs or in larger groups?
This depends on the category of the tour as we have three main categories: 1) trips for 18–35 year olds, 2) open student tours, and 3) student trips organised for a specific student organisation. In categories one and two most passengers travel alone or in groups of two–three persons.
Are you able to provide all the necessary gear and equipment for the expeditions, or do travellers need to buy this beforehand?
Yes, this is a service we provide which is especially important for the Lapland trips. As well as warm overalls, we have equipment such as snow shoes and cross country skis.
Finally, how does travel enrich your own life?
Meeting adventurous travellers and entrepreneurs is great. Unfortunately I don't travel so much with the groups any more, apart from checking out new destinations, training tour guides and meeting with business partners, including student organisations.
Lapland:
https://www.youtube.com/watch?v=qZXBC0bXftc
Balalaika and Vodka Trip:
https://www.youtube.com/watch?v=F0fkjxNsemU
Norway: