Crook Hall & Gardens Café
Judging by the non-plussed response we had from our friends when we mentioned that we were reviewing the new café at Crook Hall, the majority of the student population is yet to discover the delights of this beautiful, 13th-century Medieval hall & gardens. Tucked just back from the river, past the Radisson and about a five minute walk from Claypath, it's very close to the centre of town and we really recommend you try it out.
As luck would have it, Crook Hall has just completed its new café, which sells all homemade cakes, sandwiches, wraps and mezze selections. This meant that we stumbled across it just in time to try out the new spread that they have on offer. The café itself has a charming modern-rustic feel about it, with big, wooden tables and a pretty outside courtyard area for when the sun is making one of its rare appearances. Due to the dubious weather conditions at the time we decided to enjoy the comforts of the warm interior, which is complete with picturesque china tea pots and floor-to-ceiling windows to enjoy the view of the river outside.
After being greeted by the extremely friendly and accommodating café staff, we tucked in to our lunch. We were served a selection of English/Mediterranean-style mezze; The standout items for us were the parsley feta and the homemade chutney which were both spot on.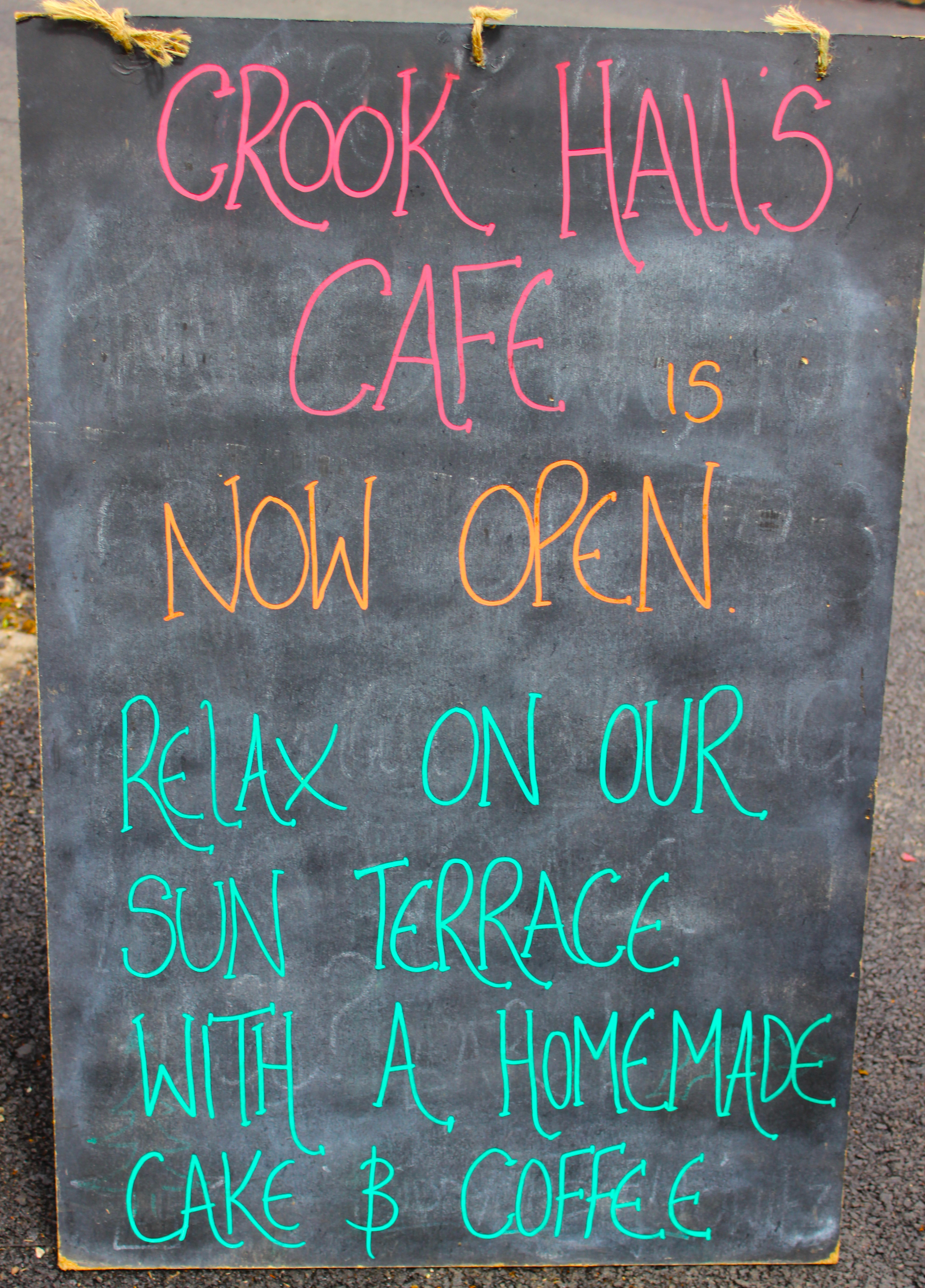 See the full mezze menu below. Each dish is £2.50.
– Feta in a homemade parsley pesto
– Mixed olives
– Fresh herb salad
– Garlic Hummus
– Tzatziki with cucumber batons
– Rocket salad with parmesan and homemade chutney
– Rustic potato salad
– Garlic bruschetta and tomato chutney
– Locally sourced honey roasted ham
– Cheese and crackers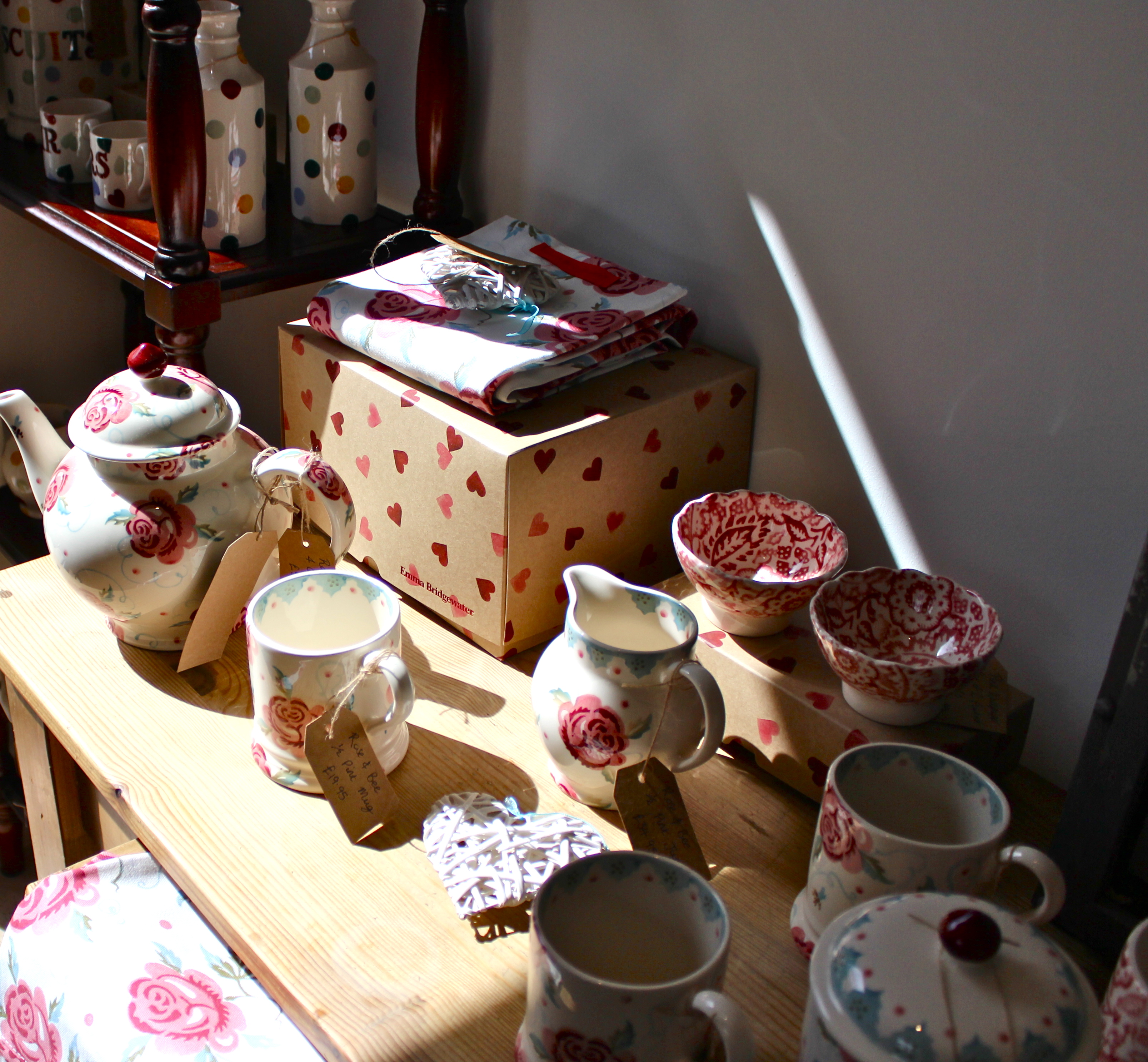 We were pretty stuffed after our mezze party, but the cake selection was just too enticing to resist. For dessert we tried the victoria sponge, banana caramel loaf and the citrus drizzle cake.
It was tough to pick a favourite, as we happily demolished all three, but the light citrus drizzle was the perfect spring treat. The banana-caramel loaf icing was fantastic (and something we'll be trying at home), but the cake itself was slightly undercooked which made it a little gooey in the middle. All in all, our meal was very tasty and the mezze-style food selection offered something different to most of the other cafés in Durham.
One fun and quirky aspect of the café is that they have their own record player, for which they have a selection of old records for customers to choose from and play. So, with Bryan Ferry warbling in the background, we polished off the last of our meal and decided to take a walk through the gardens, which are very picturesque and would make a perfect spot to sit and digest in the sun after lunch.
We really recommend that you try out Crook Hall, possibly as a post-exams treat or as a graduation celebration (they do a sparkling afternoon tea for £22 which includes admission to the hall and gardens).
There is also a range of sandwiches, wraps and other savoury delights on offer if you feel the mezze plates might not be quite substantial enough for lunch. However, if you decide to pop by for an afternoon beer or glass of vino- these little plates would make the perfect aperitif, and the leafy courtyard would be the perfect place to spend a sunny summers afternoon. We will certainly be going back there to soak up the lovely surroundings and to try more of the tasty homemade treats…
Ratings:
Food: 4/5
Atmosphere: 5/5
Price: 3/5
Service: 5/5