What first springs to mind when one thinks about North-Eastern cuisine? Not much, many would argue. Whilst County Durham is proud of its culinary specialities, no food from the North-East has yet been granted protected status by the European Union. Local residents are disappointed that their cuisine is often overlooked and believe it deserves greater recognition.
As a Southerner, I have been eager to explore the frequently underestimated specialities offered in the North-East. Here is a first hand mini-guide of the delicious regional food that we have on offer, where to find it, and how to make it!
Stottie Cakes

One of my favourite specialities is the classic northern Stottie cake, which is rarely sold in the south of England. It is essentially a round loaf of bread that has a heavy, doughy texture. In Geordie dialect 'to stott' means 'to bounce' and the idea is that theoretically, if the stotty were dropped, it would bounce back up!
Where can I find it?
A wide variety of stotty fillings are offered at 9 Altars Café, a little treasure located behind Topshop and Café Rouge. Its cosy ambience, bustling with local residents, allows you to escape from the crowds of students. They serve fillings such as ham, sausage, egg and bacon. I would particularly recommend the salmon and cream cheese stottie. For £4.40 (which includes a hot drink) it provides a rich and hearty meal, as the stottie bread is very filling. 9 Altars also offers a variety of other regional specialities, including corn beef pie and pease pudding, at very reasonable prices.
Ciao Ciao, a friendly bakery and deli located just off Framwellgate Bridge, gives stottie cake an Italian twist by serving a mediterranean version. I discovered that a trick is to go to the café towards the end of the day when half or whole stotty loaves are sold (pictured). These are great for sharing with housemates and provide a regional alternative to standard cut bread purchased from the supermarket.
The Singing Hinny
North-Eastern food is authentic because it is usually home made, so why not try to cook a typical speciality yourself? The Singing Hinny is a good starting point as it has a quick and simple recipe. It is a type of griddle (or girdle) cake which dates back to cooking traditions of Northumberland coal miners' families in the nineteenth century. John Brockett in his Glossary of North Country Terms (1825) describes Singing Hinny as 'a kneaded spice cake baked on the girdle; indispensable in a pitman's family'. The 'hinny' in 'Singing Hinnys' is a North-Eastern dialect word for 'honey'. This is used as a term of endearment, given that honey does not feature in the recipe. The 'singing' pertains to the sizzling noise created whilst the cake cooks on the griddle.
How can I make my own?
The Singing Hinny can definitely be recreated comfortably from your own home – all in under an hour! Here is a modern recipe.
Total Time: 40 minutes
Preparation Time: 20 minutes
Cook Time: 20 minutes
Yield: 8 dependent on size of cutter.
INGREDIENTS
• 450g / 1 lb plain / all-purpose flour
• ¼ tsp bicarbonate of soda
• ½ tsp cream of tartare
• ½ tsp fine salt
• 110g / 4 oz very cold butter
• 110g / 4 oz very cold lard
• Zest of a lemon
• 185g / 6 ½ oz dried fruits mixture (currants, sultanas and raisins)
• Milk to mix
PREPARATION
• Into a large roomy baking bowl, sieve the flour, bicarbonate of soda, cream and tartare and salt.
• Cut the cold butter and lard into small pieces, add to the baking bowl and rub together with the flour until it resembles rough sand.
• Stir in the lemon zest and the mixed fruit. Once thoroughly mixed gradually add milk, a little at a time, until the dough comes together and is soft and pliable.
• Dust a board or work surface with a little flour, and roll out the dough to around 5mm (the depth of a £1 coin) using a 6cm / 2″ cutter.
• Heat a flat griddle pan (not the modern ridged griddle pans) or a heavy-bottomed frying pan.
• Using a little kitchen paper smeared with lard, grease the pan lightly. Once hot, cook the hinnies, a few at a time for approx 5 mins on each side or until golden brown.
• Serve warm with a good smearing of butter, or simply sprinkle with a little sugar.
• The hinnies are best eaten fresh but can be stored in an airtight tin for 24 hours.
Pan Haggerty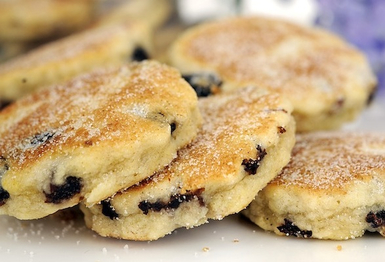 Pan Haggerty is a North-Eastern take on the well known French classic- Potato Dauphinoise. Instead of using parmesan and cream it uses good old cheddar and soft fried onions. My housemates decided to take on the task of making pan haggerty for our house, along with some delicious sausages from the indoor market and a hearty onion gravy (pictured above). It was absolutely delicious and a great regionally-themed meal to make for a large group of (very hungry) students. They used the Hairy Bikers recipe but omitted the bacon given they were serving it with sausages anyway. Warning: you will not be able to move after this meal… Click on the link above to find the recipe and method.
More North-Eastern Specialties…
If you're not quite sick of potatoes yet, despite the overload of waffle fries and potato smileys you've been served up in college, I would highly recommend you try cooking one of these north eastern potato-based dishes. The most popular is Panuculty, a casserole-hot-pot type dish originating from Sunderland that is made with corned beef, onion, sliced potatoes, stock and seasoning.
Toad in the hole, sausages in batter served with onion and gravy, is another North-Eastern classic. Jamie Oliver offers a fabulous take on the Toad in the hole classic, with an onion-and-apple gravy, whilst BBC Good Food recommend using red onions and thyme in the batter.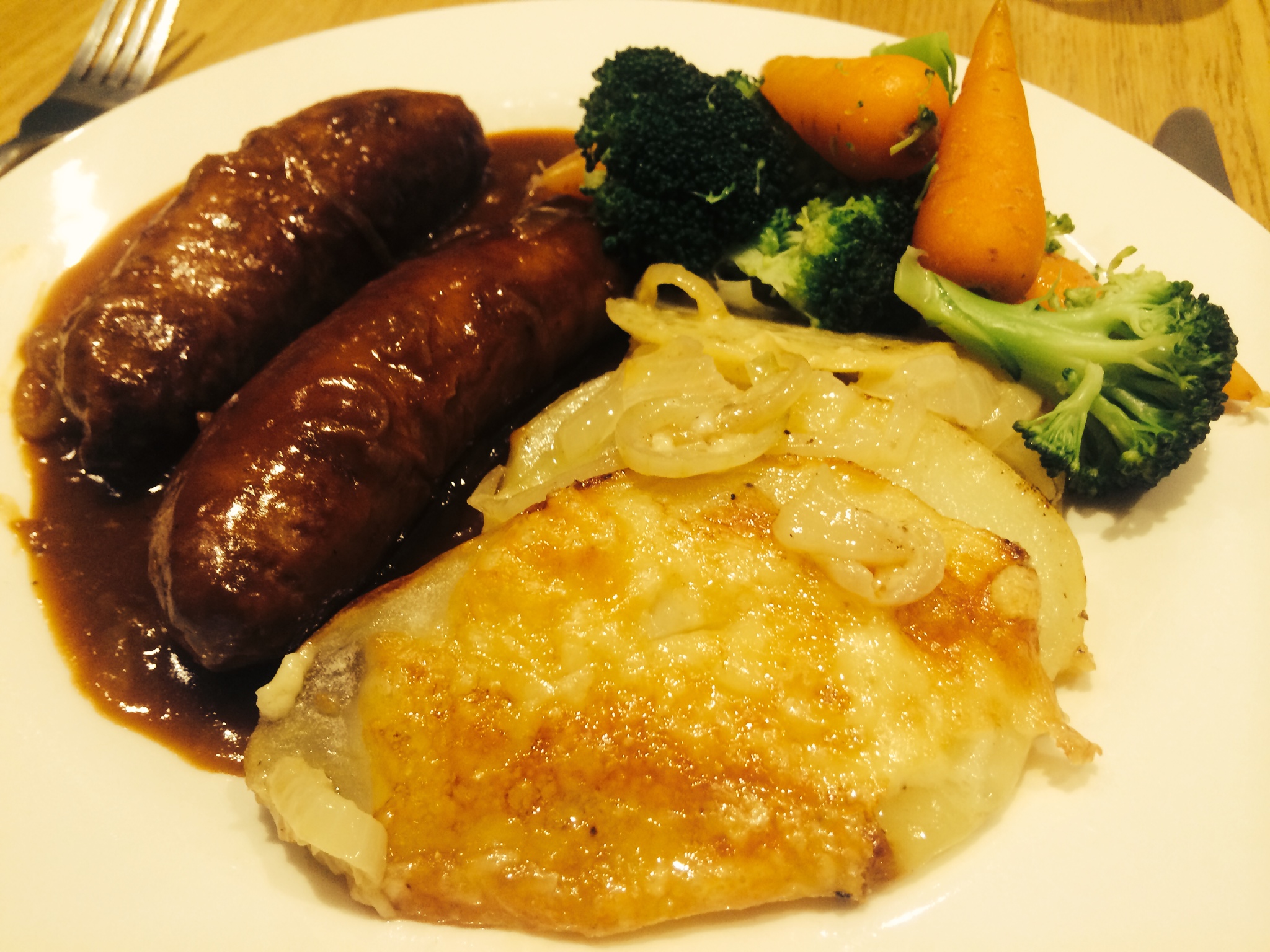 I hope this has given you a small glimpse into the North-Eastern culinary repertoire – there is more on offer than just potato and cheese (although pan haggerty is pretty special)! So, it is time to put any stereotypes you have about North-Eastern cuisine aside and make the most of the food on offer in Durham. After all, you can find many of these regional specialities right on your doorstep and they are also easy to try at home.