"The older I get, the more I realise how people look up to people like me, young people, so I think you sort of owe it to them to give them some sense of the excitement of cooking…"
For any one who has an interest in the culinary world (… or who has ever switched on the TV!) Rick Stein is a household name; an iconic British chef, restaurateur and TV food presenter, who has travelled the world extensively in search of great food.
So, given the aforementioned fame and recognition as a world-renowned chef, I was ever so slightly nervous, but very privileged, to find myself cooking a pre-Christmas meal for Rick in December last year. Rick, with his wife Sarah (my mum's cousin), splits his time between his businesses in Australia and England and when they are in the UK we occasionally have a get together. This time, it was my job to cook…
My mother (not a natural lover of cooking) swiftly decided to hand the baton of cooking for Rick Stein over to me after her somewhat disastrous attempt at a cheesecake on the last visit, which left her scarred for life. Much to his credit, Rick graciously insisted, "No, honestly Jocie, I quite like the runny texture…" as my mum solemnly resolved that this was her last ever foray into the world of baking.
Although Rick is well accustomed to the glitz and glamour of international fame, he certainly doesn't come across as remotely affected by it. He is reserved and unassuming, but full of knowledge and excitement about food. Luckily he was willing to share this wisdom with me in return for a butternut squash risotto! So, Rick very kindly agreed to let me quiz him for 20 minutes on his journey up to now and share it with Bubble readers everywhere!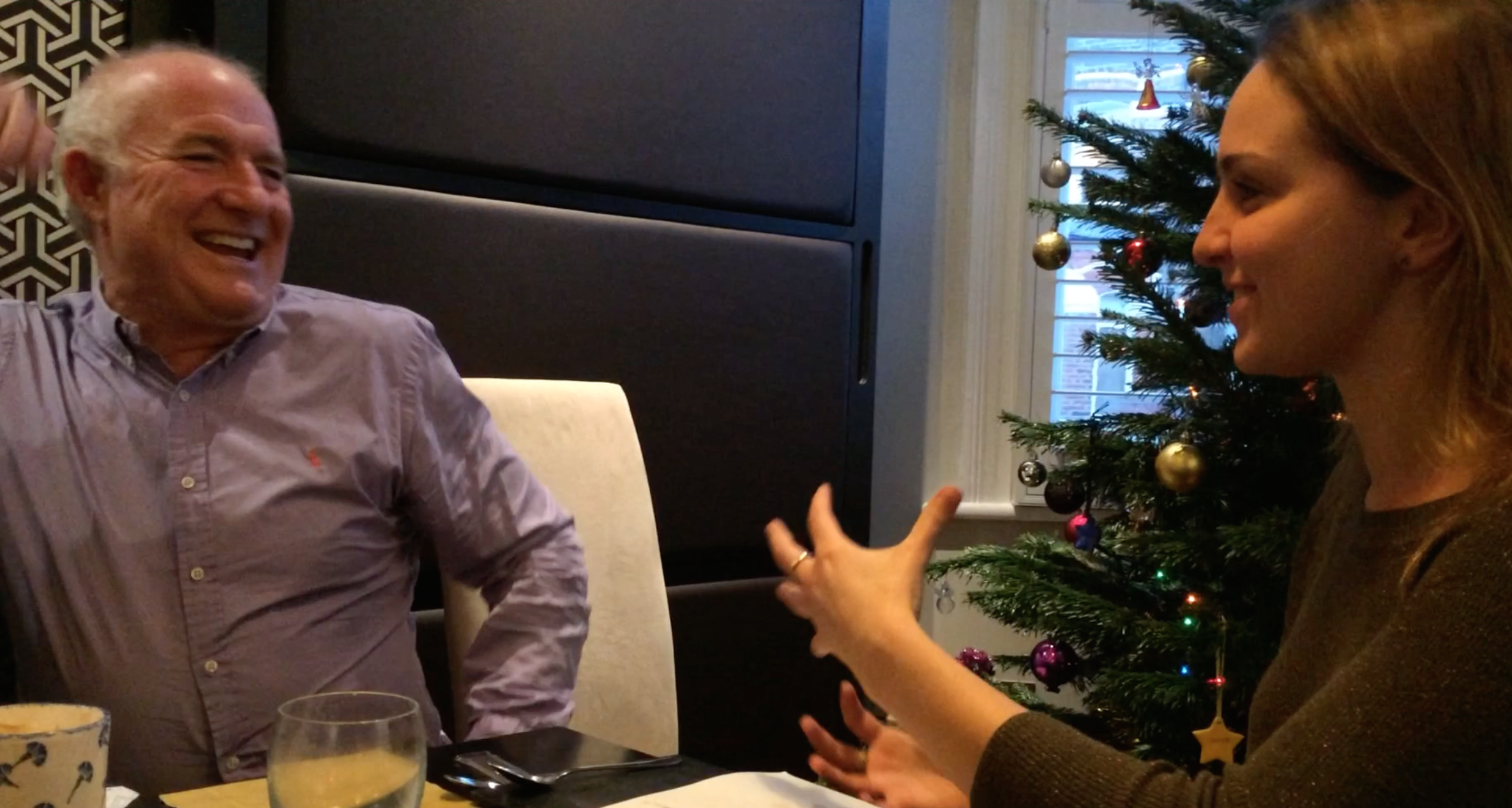 One might assume that Rick Stein was always driven by a passion for the cooking industry, however, he openly admits that this was not the case. Although his childhood was full of his mother's great cooking, inspired by their family's extensive European travels, he never particularly considered food as his career-calling until much later in life.
"I was always keen on food- I was just lucky to have parents that not only cooked a great deal but also travelled a great deal…so I just had a background of cooking…but I don't think I ever though "right, well I need to learn to cook""
Almost by accident, Rick took his first steps into the culinary world at the age of eighteen but admits that he wasn't exactly a high-achiever at this stage in life…
How did you first get into the cooking industry and what inspired you to follow a career in cooking?
"I actually did a hotel management traineeship… I was trying to please my dad who wanted to get me a job at BP, and I didn't really want to work in BP. In fact I didn't want to do anything!'
Rick started his management traineeship working in a hotel kitchen, which he (perhaps somewhat guardedly) thought at the time, "Seemed alright" – this was his first experience of working as a chef. Part way through his training, however, his father died very suddenly and this threw him (albeit temporarily) off course. In response to this personal tragedy, Rick decided to move to Australia (a place now very close to his heart) for a couple of years.
When Rick eventually returned to England he still felt no particular passion for the catering industry and instead completed a degree in English at Oxford University. In fact, his first venture into business was in the form of a nightclub on the quayside in his hometown of Padstow.
This enterprise, however, did not last long as the club was unceremoniously shut down by the police for being too rowdy (!) which is when Rick first decided to throw himself into running a restaurant (also in Padstow). This highly successful establishment now goes by the name of 'The Seafood Restaurant' and it has been extremely influential in the relatively recent (and long overdue) process of forming an audience for home-grown, British Cuisine.
Rick believes that he was simply lucky enough to tap the British catering market just at the right time, when the general public was beginning to take a genuine interest in building up a British culinary identity. His intuitive sense of what worked in food, gleaned from his mother by proxy, and his broader experience of the diverse European cuisines through his travels, gave him a unique advantage over other British chefs at the time. He used these outside influences to shape his cooking and managed to fill a niche that had previously been unoccupied. After opening up the seafood restaurant, his career went from strength to strength: he hasn't looked back since.
"what we brought into it was a sort of amateurishness based on knowledge outside of the catering industry…"
In all your travels, where have you been most inspired by food?
"as a result of travelling and making TV programmes, I have to get involved, there's always something you can say about virtually any country I've been to…"
Rick has always had a great interest in learning about food from around the world and always makes a concerted effort to "get into the cooking of the area". The place that has left the greatest impression on him however, is India, which he describes as "vast" and "incomprehensible" with a really sophisticated and fantastic cuisine that "blows your mind".
Despite the meat-heavy British interpretations of Indian food, the majority of food in India is actually vegetarian, and Rick vividly describes the "fabulous, great tasting vegetables" that can be found in this part of the world. He also delights in the diversity of Indian culinary practices – the rich dairy-based curries characteristic of the North contrasting with the tomato and tamarind-filled specialities of the South.
One thing is clear when it comes to Rick and food: he is not a snob and is very open-minded about trying new things. One of his favourite ever food experiences was "the most marvellous fish madras curry" at an unassuming fish restaurant on a beach in India…
" …sometimes I have food like that and I get almost too overexcited and slightly irritated at the people I'm with because I'm so enjoying it!…I'm saying 'don't you get this? Don't you get how special this is?!'"
On the flip side of this Rick remarks that, even in some of the countries most renowned for their delicious cuisines, great quality food and recipes can sometimes be difficult to come by…
"One of my favourite books (of those he has written) is the Spanish book ('Rick Stein's Spain') but actually getting good recipes in Spain was really hard, there's a lot of very second rate food in Spain…you've really got to find it (good food), but when you do find it, it's fabulous."
Rick emphasises the fact that the reality of local cuisines may not always live up to people's expectations, giving the example of Corsican fish cookery. Although one might expect that Corsica, being an island, would specialise in seafood, historical pressures from pirates and risk of malaria in the lowlands have meant that this is not the case.
Despite Rick's diverse experiences of food, he admits that he always comes back to great, classic French food –
"…at the end of the day, really good French cooking is what I still love best, no matter where I've been…"
What advice would you give to an aspiring chef?
Although some might think that the best way to learn is on the job, Rick warns that this can sometimes be a steep learning curve –
"it might not be the best way to start, because it is incredibly hard work and long hours…a bit of a baptism of fire…"
He suggests that going to cooking college is a worthwhile pursuit, but stresses that it is important to find a college that is "switched on to the needs of the industry". Exploitation of young chefs is rife within the catering industry, which makes it all the more important to really research the kitchen you are going into, once you get to this stage. Rick emphasises the importance of finding a good mentor; someone who is prepared to teach on the job and who treats cookery as a calling –
"I think, the best thing is to do some research and find a kitchen where you know the people are intelligent, imaginative and are really into the job…"
It stands to reason that, if you are enjoying what you are doing and are learning more every day in a creative environment, the long and often antisocial hours of a chef (in Rick's case – 25 years' worth) aren't so much of a hardship –
"…at the end of the day it is really hard…cooking in restaurants, but it is incredibly rewarding. I think actually one of the most rewarding things about it is the relationships that you have with people under pressure."
Interestingly, Rick mentions the fact that a lot of the chefs with whom he has worked in his time have been dyslexic and he believes this may be due to the proposed links between dyslexia and greater creativity. Cooking is indeed, Rick believes, a great creative outlet that allows people to express their personal style through the medium of great, and sometimes wacky, food.
Rick's favourite restaurant?
La Colombe d'Or (just outside Nice, France) –
"some famous painter painted the menu (none other than Picasso!), I think it was in the 50s, so they're stuck with having to do the dishes that he actually wrote!"
And finally- Rick's 'favourite ever' dish?
It's got to be roast turbot on the bone with a generous helping of hollandaise sauce –
Can you blame him…?
If you want to know the whole story of Rick, read his autobiography 'Under a Mackerel Sky: a Memoir'.