Yesterday evening (March 9th), local representatives from the Green Party, the Labour Party, the Liberal Democrats, the Conservatives and Ukip congregated in the Great Hall at University College to answer questions on party policy posed by guests, who numbered close to 200.
Candidates discussed topics such as military spending, legal aid reform, support for small and medium sized enterprises, zero-hour contracts, immigration and climate change.
Josh Wignall, who organised the event, said: "As a PPE student, I've always had an interest in democracy and elections so it was something that fitted in well with that. About half of all 18–24 year olds voted in the last general election. That's a worryingly low number and it means that the policies we want don't get as much consideration by government, since we aren't as important at election time.
"So really, Castle Question Time was about trying to raise political awareness. I think students are increasingly finding new ways to engage with the political process. Despite being in the thick of summative season, turnout was excellent so that can only be a good sign. Hopefully, people found the event informative and now know who to vote for on the 7 May!"
The few logistical hitches were no deterrent for Mr Wignall, a second year Castleman. "Unfortunately, Roberta Blackman-Woods MP (Labour) was unable to attend due to parliamentary commitments but her office was very helpful in providing a great replacement in Harry Cross.
"Ukip hadn't chosen a representative, but again found a fantastic replacement in Rhys Burriss from Bishop Auckland. Despite the challenges, it was a very rewarding experience and I can only thank those involved for their help."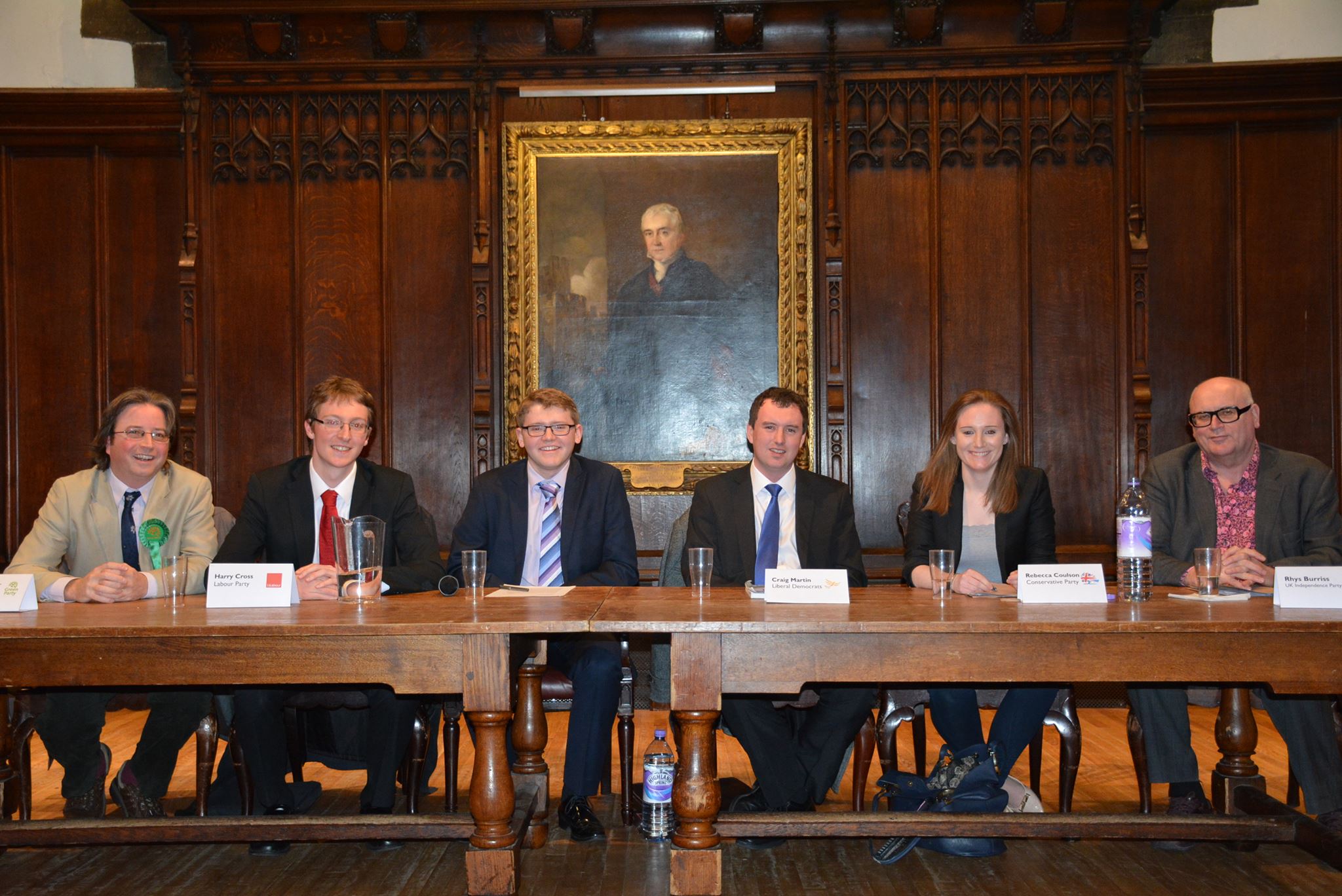 The audience – which included guests from a local sixth form – also got the chance to talk with party representatives on issues directly affecting the student population.
Speaking about the rising cost of renting, Liberal Democrat representative Mr Craig Martin highlighted the importance of encouraging developers to favour housing projects outside Durham City centre designed primarily to accommodate the housing needs of the local population.
This, he said, would reduce the strain on housing estates in the city – particularly on residential areas such as Whinney Hill, which were initially intended to serve as social housing.
Party representatives who attended the event spoke very positively on the impacts of the student-led initiative. While Mr Martin hoped that a single meeting would not be sufficient to alter anyone's political views dramatically, he voiced his hopes that the "generation of first time voters… (would) think pragmatically about the broader picture".
Voting registration is open to all British citizens and citizens of the Commonwealth, and will close eleven working days before the elections on 7 May 2015.