Every now and then in the world of tennis there is a remarkable clamour for Roger Federer to take his leave from the game. Those that propose this idea argue that he is going to tarnish his reputation by merely fading out of the game, rather than capping his career with a moment of victory. They seem to adopt the bizarre view that Federer is some sort of unwanted elderly relative of the ATP family, embarrassing himself by recounting oft heard anecdotes of past glories when he should really be in a retirement home by now.
Frankly, this should seem a ridiculous argument to all fans of the sport. Federer still has an evident passion for tennis and has a creative flare about his style of play which is refreshing in an era where power seemingly counts for everything. He has been the poster boy for easy on the eye tennis for years now and has the skill to continue to excel in that role during the twilight years of his career. His style is frequently described with words that might seem over the top; words like 'artistry' and 'élan' are often thrown around by commentators in awe of that trademark forehand and single handed backhand. Federer, though, is one of few players whose shots might actually merit overexcited proclamations from John Inverdale or Sue Barker, proclamations along the lines of "that was an oil painting of a backhand." There is no doubt that he is one of the most exciting and talented players to have picked up a racket, and the game will lose a fantastic presence when he eventually does retire.
That moment, however, is hopefully still a while away.
His recent win over Gilles Simon in the final of the Shanghai Rolex Masters, surpassing Novak Djokovic en route, proves that he still has the ability to compete in high level tournaments. We should not forget that earlier this year, the Wimbledon final went right down to the wire before Djokovic proved his legendary mettle and was able to emerge as victor in the fifth set. Also, at the US Open, a semi-final run could only be halted by a reborn and imperious Marin Cilic.
The arrival of Stefan Edberg on his team helps to explain the promise shown at these tournaments. The Swedish legend's presence in Federer's box has led a greater depth to his game. A further focus on serves and volleys mean that he is able to pick up more easy points on his serve, conserving energy and allowing him to be more of a challenge when he has to receive. Of course, the threat posed by his stunning ground strokes has not disappeared, they have just been enhanced by another weapon. This tactical change should not be underestimated, given he does not have the stamina to engage in the trench warfare style of tennis propagated by Nadal and Djokovic, and amongst an encroaching backdrop of threatening young imitators.
Looking ahead, the ATP World Tour Finals is the biggest tournament on the horizon, taking place in early November. This elite tournament, involving only the top eight singles players at the close of the season, will serve as a useful indicator of Federer's chances for the 2015 season. There is no doubt that it will be a testing tournament for Federer, however, with Rafael Nadal set to be sidelined due to injury, one of the larger recurring thorns in Federer's side will not be lying in wait.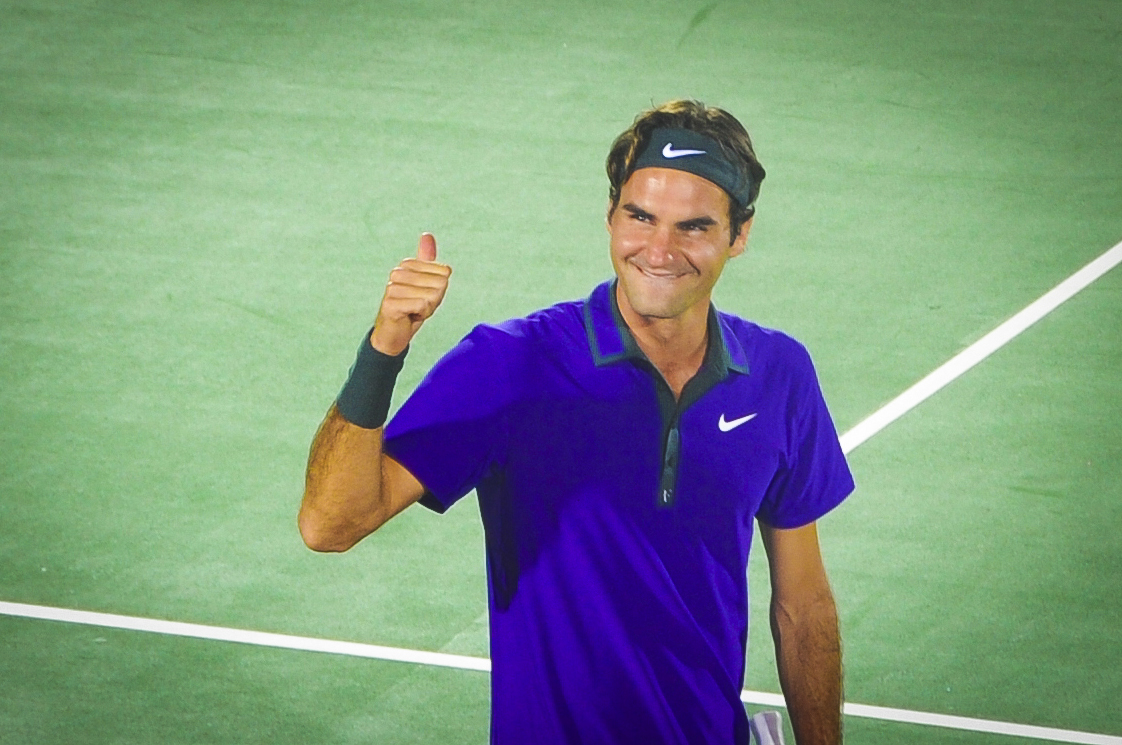 With a fantastic recent win and a well-adapted style that ensures his place as a dangerous yet still dazzling player, it beggars belief that there should be people actively trying to harry him out of the game.
Whilst it is by no means a certainty that his current run of good form can continue to propel him towards an elusive 18th Grand Slam title, we cannot dismiss the presence of Federer in the game. This is especially clear when considering a recent comment made by Djokovic, acknowledging that their recent Shanghai semi-final was "one of the best matches he's played against me" and that his current rival for the number one spot is "playing as good as ever."
So let us not usher one of the finest players the game has ever seen so fervently into retirement. I, for one, am not ready to see a Federer whose sole appearance on the television consists of him forcing a smug smile whilst looking into a mirror as he drags a Gillette razor across his face. I believe that he will carry on playing for as long as he still enjoys it and has a passion for it.
Federer may be ageing, but he still has a deserved place at the top of the tennis world, and surely any fan of the sport who wants to see high quality tennis would be more than happy to see him grace the game for at least a couple more years.