Anyone who has met me knows that I am basically a walking advertisement for Northern Ireland. To me there is something wonderful about my wee country, its people and its natural beauty. So the excitement when watching Game of Thrones is really all too much – I can hardly hold in the "I've been there!" pretty much every time there is an outdoor scene. The Northern Ireland tourist industry have obviously got on board with this, with various coach tours starting up which bring (mostly American) fans around the sites. Even the Queen came to visit the Iron throne, and evidently enjoyed it so much that she referenced it in her Christmas Day speech.
Many of the backdrops for action in Westeros began as beautiful Irish landscapes. The North Coast of the country features a number of such settings. Downhill Beach is home to one of my favourite landmarks of Northern Ireland, Mussenden Temple, and so is worth visiting in any case. However, it also provides the setting for Dragonstone, where Stannis Baratheon and Melisandre burn the old gods and chant "For the night is dark and full of terrors." Get a group together and head down some evening for a campfire on the beach, and scare passers-by by chanting at them while toasting your marshmallows.
Also on the North Coast lies Larrybane. This stunning headland is home to Carrick-a-Rede rope bridge – an attraction somewhat destroyed by health and safety laws but still worth going to even if only to watch out for sharks in the sea below. This headland provided the location for Renly Baratheon's camp in season 2, where we meet Margaery Tyrell and Brienne of Tarth for the first time, and where Renly loses his life to the mysterious Stannis-shaped smoke cloud. Although not immediately recognisable, it is a beautiful piece of coastland, and is noticeable if you re-watch a few episodes with the location in mind. Right beside Larrybane is Ballintoy Harbour, which serves as the harbour for the Iron Islands. There is a beautiful coastal walk, and it is also a popular spot for outdoor activities – I can recommend CoasteeringNI if you want to experience the cold, icy waters of Westeros. The harbour is where Theon Greyjoy first meets his sister, Yara, flirting with her, totally unaware of who she is. We also see him admiring his ship – the Sea Bitch – here, which is intended to be used to attack fishing villages along the coast, but is in fact used in the surprise siege of Winterfell.
Moving away from the coast, one of the creepiest places to visit in Northern Ireland, the Dark Hedges, are recreated as The King's Road. Here, Arya Stark makes her escape from King's Landing, disguised as 'Arry', along with Yoren, Gendry and Hot Pie. Even if you don't recall the scene, the place looks like a set someone has accidentally left there, and is a perfect photo opportunity if you want to show people that you have, in fact, been to Westeros.
No tour would be complete without visiting Winterfell – the home to everyone's favourite family, the Starks. Castle Ward in County Down overlooks Strangford Lough, and features a beautiful house, garden and woodland. For the keen Game of Thrones fan there is a company who provide archery and costumes in the courtyard to recreate the scene from the series premiere where Bran is taught how to shoot before his tragic accident. Other areas of the National Trust grounds at Castle Ward are also used in the programme. Audley's field, a short walk from the Castle, is used for Robb Stark's camp in series 2, and is where he first meets Talisa. It is also where Jaime Lannister is imprisoned with Alton, and uses him (in a murderous fashion) to escape. The setting is beautiful, with a small ruined castle on the hill in the background, woodland surrounding, and Strangford Lough rippling beside the path. There are a number of walks in the area, but keeping on the Game of Thrones theme, there are 2 self-guided cycle tours which bring you around key filming locations – Robb's trail which takes about 1 ¼ hours, and Tywin's Trail which takes about 2 ¼ hours. For £15 you can hire a 'Stark Sack' which contains cloaks and swords so you can feel really cool cycling around Westeros in an entirely non-anachronistic manner…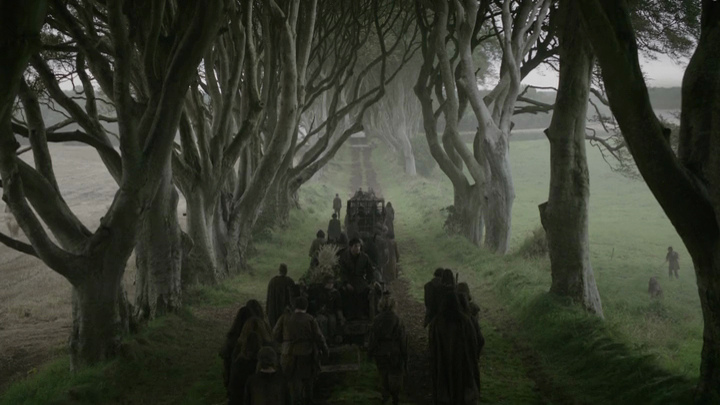 However, it has to be noted that despite all of this Game of Thrones joy being available to the public, key locations are not open to tourists. The indoor sets, including the Eryie, home to Lady Lysa, Robin Arryn, and the alarming Moon Door, and the Great Hall of the Red Keep, featuring the famous Iron Throne, are not open to tourists. The Paint Hall in Belfast which holds these sets is the largest studio space in the world, and understandably can't have tourists walking around when they are working on other projects. We can only hope that at some point in the future these spectacular sets will be open for anyone to visit, but for the meantime, it is the privilege of a select few, including Her Majesty Queen Elizabeth II, and we have to settle for the fantastic outdoor scenery available to all.
A report from the Queen's visit to the Game of Thrones set, where she regretfully didn't try out the Iron Throne for herself