The Final Fantasy series has always had a place in my heart. A place of memories and nostalgia which can be matched alongside the likes of Metal Gear Solid or the Mega Drive versions of Sonic the Hedgehog. I wish I could say that my memories of the series started at Final Fantasy 1 or any of the other original retro titles in the collection – but, like plenty of other people, my love started at Final Fantasy 7.
A couple of weeks ago I was sat reading an article about the Final Fantasy franchise and even though I have this deep love for the series, I have never been able to defeat the gruelling difficulty of any of the games. I keep setting myself the challenge of finishing either Final Fantasy 1, 2, 3, 7 or 8, but I never prevail, usually because I get stuck or start playing something else.
Things are going to change!
I've decided to get a copy of every Final Fantasy game and go through them in chronological order. I want to play the versions best received by the fan base in an effort to view the franchise at its pinnacle. If all is successful through to Final Fantasy 9, I will carry on to play and review the most recent games.
First, the original…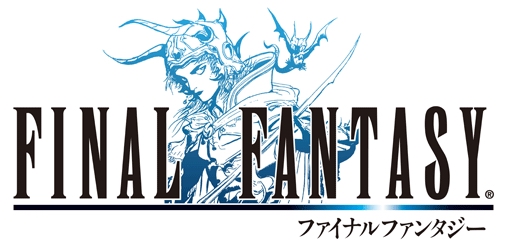 Created by Hironobu Sakaguchi and his team at Square co. ltd in 1987, Final Fantasy was an original role playing game created for the Nintendo Entertainment System which gained a lot of success upon its release. Sakuguchi's original intention was for this to be the final game he would ever make and therefore named it 'Final Fantasy'. Due to the positive reaction of fans towards this game, a whole host of sequels, remakes, spin-offs and films were spawned and are still being made to this day.
Final Fantasy 1 (Dawn of Souls edition) is a direct remake for the GBA and was paired with a remake of Final Fantasy 2 to beef out the content of the cartridge. This new remake features more advanced textures and sprites, brand new optional dungeons each carrying their own new Bosses, and a modernised soundtrack. One controversial change they also made to this version was the difficulty. I generally found it pretty easy to go through the game; I wasn't sure if it was because I came very prepared for every boss battle, or was just presented with a more generous levelling system. However, the new optional dungeons presented a difficulty which made it very challenging at times, but rewarded you for your hard work. This seems to be a tactic by Square Enix to capture the casual gamer market on the GBA, but still include content for the hardcore gamer.
In this game, your team consists of four crystal bearers – a consistent theme among retro Final Fantasy titles -who are the only people capable of saving this fantasy world. Your goal is to restore all four of the planet's elemental crystals whilst being barraged by many randomly generated battles and battling against elemental bosses.
I found this game to be very enjoyable from start to finish and it was hard to put down each and every night. The fighting system is pretty standard like with any other Final Fantasy game. You take turns with your enemy in choosing whether you should attack (Melee or Magic), prepare (use magical buffs to make characters stronger or enemies weaker) or defend (stand guard in wait for the next turn). However, this game doesn't have the complexities to take strategies any further. You only have to worry about which classes to choose and what spells to use for each level. Apart from that, good ol' fashioned levelling up is the way to beat this game comfortably. With each level, your attack and defence become stronger and new and more powerful magic opens up. Magic mainly takes on the form of elements of which all have their strengths and weaknesses based on the corresponding type of an enemy. I found that it took a little less time to kill an enemy by exploiting its weaknesses, but rarely found it necessary to win unless I was completely underpowered.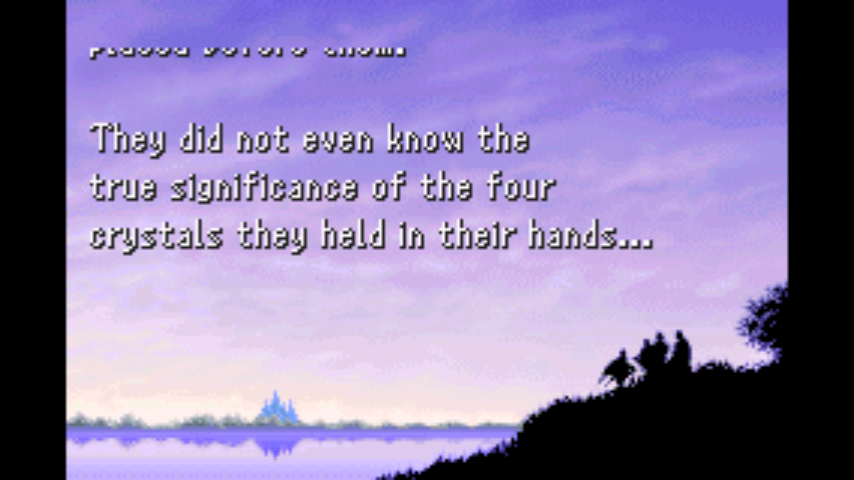 Even though the fighting system is nowhere near as complex as the 'Materia' system in FF7 or the 'Draw' system in FF8, the simplicity enables you to use a brute-force type method. Your tactics are only as good as the characters you use them with and even though there are choices you have to make during battle (like how to prepare, when/how to heal and when/how to attack), levelling and gear is what really counts. Weapons and armour are relatively simple to stumble upon, but you have to actively trawl through every part of each dungeon to make sure you get he more powerful items. This can be tedious with the amount of random battles which come up, but that is what Final Fantasy is all about: endurance as you enter dungeons and hoping your MP (Magic Points) last long enough for you to kill the dungeons main boss or hoping that you have that last Hi-Potion available as one of your team members comes very close to dying.
Like any retro game, you are pushed into an unfamiliar world with no initial instructions on how to play the game (unless you bother to look in the manual) and you learn how to adapt to this foreign place. This isn't like any other Final Fantasy, or any modern game for that matter, which shove tutorials down your throat. It contains information which can be learnt through trial and error instead of it being spoon fed to you throughout the game.
This is where the original Final Fantasy really gets its charm: It is a simple game with hardcore elements – a game which forces you to learn on your own rather than giving the information to you on a platter. It is easy enough to buy this game on the PSN or even on Android/IOS and I thoroughly recommend it as a means not only to see the true roots of the Final Fantasy franchise, but also the retro freedom seldom seen today.
Rating: 7 Krakens out of 10