Move over models, totter away in your sky-high heels editors and slink back to the sides designers; there's a new kid on the fashion-block and she ain't goin' nowhere.
Gone are the days when we rushed out to buy the newest copy of Vogue, having twiddled our fashion thumbs at a loss for 29 days. Finished is the incessant stalking of our favourite supermodels, craning our heads to catch a glimpse of their off-duty look, and strutting around praying for someone to take pity on us and usher us into the magical land of fashion shows. The new generation fashion-bloggers are here and they're making our not-so-stylish lives a lot more fashionable, all from the comfort of our very own bedrooms.
The Internet has always been a thing of convenience– we buy food and clothes without lifting more than a finger, let alone a coat hanger. We go on dates or meet up with friends without getting out of bed. We can read entire novels on our laptop screens and download films and shows, making it almost unnecessary to leave the house. But the hip and trendy world of fashion jumped on this bandwagon surprisingly late.
We used to draw our inspiration from fashion shows and designers, editors and models. Magazines were the fashion bible and It-girls were sponsored by labels to showcase their designs. All of this, until a group of fashion nobodies set up their Blogspots and started documenting what they wore and what they wanted to wear. Designers they loved and loved to hate. Vintage pieces they picked up and custom made clothes. The phenomenon quickly caught on and soon every fashionista was either writing a blog and flaunting her newly earned 'blogger' title, or reading hundreds a day. So what impact has the blogosphere had on fashion? Are the days of glossy magazines and catwalk-crashing over, or is the fashion blogger simply a welcome addition to the world of fashion?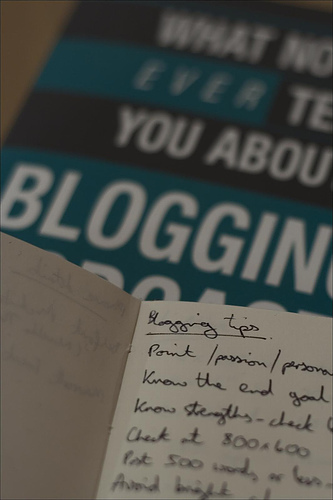 One of the most famous bloggers is Tavi Gevinson, a blogger turned online magazine editor, dubbed the 'future of journalism' by the rather too futuristic Lady Gaga. She has been shaping the wardrobes of her followers since 2008 and generating fashion-envy in grown women the world over. All at the ripe old age of fifteen. Yup, fifteen. The once self-professed 'thirteen year old dork' is the inspiration for people twice her age, and only in the weird and wonderful world of fashion would a high-end editor sit next to a just-out -of-primary-school girl on the front row of a fashion show.
The majority of fashion's famous bloggers started out as 'normal' people with a talent for fashion and the gift of writing (which isn't even a prerequisite anymore, a picture says a thousand words…) who started their online fashion journal as a hobby and nothing more. Ordinary girls and boys who started off as usernames on a blogging site followed only by friends and family now have their own websites, column inches dedicated to them and have become brands followed by the whole fashion industry. If you want to be ahead in the world of fashion it is no longer enough to listen to the gospel truth of Alexandra Shulman, Anna Wintour and Emanuelle Alt, you need your eyes glued to your computer screen and your fingers on your mouse. But beware; with this rise is the inevitable decline in standards. If you want to get anywhere in the world of blogging you'll need to stand out from the way too fashionable crowd and make your blog heard. It is not a free ticket to the FROW and your blog will not have you rubbing shoulders with Anna Wintour at her next private dinner party. If you're good enough, you'll be welcomed into the world of other bloggers, the cream of the crop, a mega feat on its own.
Online blogging has given the trendiest of people lacking in fashion-world connections a stage for their ideas and thanks to the Internet, if the ideas are good enough they will be heard by billions. Blogs are run by ordinary people, ultimately making them more accessible to ordinary people. It isn't about the writer showcasing her latest Chanel or Gucci purchase, shot by Mario Testino or Tim Burton. Blogging has created such a buzz due to its ability to transfer runway trends into high street, vintage and charity shop purchases. The fashion blogger makes H&M look like a mecca for fashion. She turns Topshop into a runway heaven and Oxfam into a hot new haute-couture label. She has made customising cool once again and breathed life into old and off-trend clothes, proved by a Summer swarming with homemade short shorts, layered tanks and crop tops. The fashion blog has become a source of constant inspiration. Posts are updated weekly, sometimes even daily and best of all this inspiration is free.
However, even with the continuous increase in popularity, fashion blogging won't ever push catwalks and magazines out of the picture. Catwalks and Fashion Weeks, models and designers provide the inspiration for these bloggers. Magazines are catching on, with the majority of them now having their own online blog, and I don't know about you but I still rush out at the beginning of every month to buy my copy of the satisfyingly weighty Vogue, no matter how un-weighty it might make my bank balance…
Fashion blogging is a welcome addition to the world of fashion and struts its stuff nicely alongside the fashion traditions we know and love; next time you're in a fashion crisis and your clothes look dull and dreary I challenge you to open your laptop before your purse and hunt down the help of the computer fashionistas – they'll breath a whole new life into your wardrobe in just one post. Failing that, there's always a pair of scissors and a sewing kit. Or you could just stick with Vogue…