So I've never written an article about music before. I keep meaning to write one about Bruce Springsteen, who is more or less my favourite musician, but someone beat me to the punch on that last term. I've also been planning an article on the musical genius of Taylor Swift (with whom I am mildly obsessed, as the Music Editors will confirm- but seriously, listen to Hey Stephen from her second album, it's brilliant and only Swifties seem to know it exists). But instead, it's 3.30 a.m., and a late night YouTube jukebox session has inspired me to instead write about one of my other favourite musicians: Eels.
I'm never quite sure whether to call it/him a band or a musician, as Eels' only constant is the mercurially brilliant Mr. E (Mark Oliver Everett), with a changing set of musicians around him. I've seen him/them twice live, both times in Newcastle (which seemed oddly appropriate, rather than the swankier setting of my home city of London), and the second time said group of musicians, to a man, were wearing long, thick beards. Which I approved of, for reasons anyone who's met me will understand. Anyway, whatever Eels is exactly, it's great.
Like the best musicians- see also the aforementioned Boss, They Might Be Giants, The Beautiful South, R.E.M. (yeah, Taylor is a bit of an odd one out in my musical choices)- they combine often catchy, poppy tunes with dark and haunting lyrics, ones which deal regularly with all the frustrations and bitterness of life, and work in a range of different styles and instrumentation, from guitar-heavy rock, to a millennial form of the blues, to deceptively sunny pseudo-pop, choral elements, and gorgeous strings. But, like the absolute best art, they're far from completely depressed and depressing; Eels are probably the band I turn to most when down myself. Life is frustrating for Eels, but it's still worth living.
At any rate, rather than talk on and on about the band, I'll let it speak for itself, in a choice of eleven songs to introduce you to them (if you're not an existing fan). It would've been ten, but that'd be far too neat for Eels.
1: Last Stop: This Town
The song that introduced me to Eels. Its slightly off-kilter, hypnotic theme is what first drew me to it, and when Mr. E's vocals- never really singing exactly, like a gruff American Jarvis Cocker- kick in, the rhythm and the wistfulness of the lyrics ('it's getting dark a little too early, are you missing the dearly bereft?'; 'what if I was not your only friend in this world, will you take me where you're going if you're never coming back?') combine to make a sadly sweet broken-pop masterpiece.
2: That's Not Really Funny
I actually knew this first, because it's the appropriate theme to the BBC's darkest of dark comedies, Monkey Dust. The sinister passive-aggressive anger of the song is brilliant: 'you say a lot of funny things, my little bunny, and I almost always laugh, but that's not really funny', as the music switches between a quiet background loop to screaming guitars.
3: Losing Streak
Emerging from their real magnum opus, Blinking Lights And Other Revelations, Losing Streak is one of those uplifting tracks I was talking about: introduced by a bouncy, irresistible piano riff, Mr. E defiantly declares to the world that his losing streak is done.
4: I Like Birds
I'm not sure I can even explain what I like about this one. It's insanely catchy, and the casual rejection of the world of 'mean little people' and 'crazy auto-cars' in favour of the emphatically vocalised 'birds' is very appealing.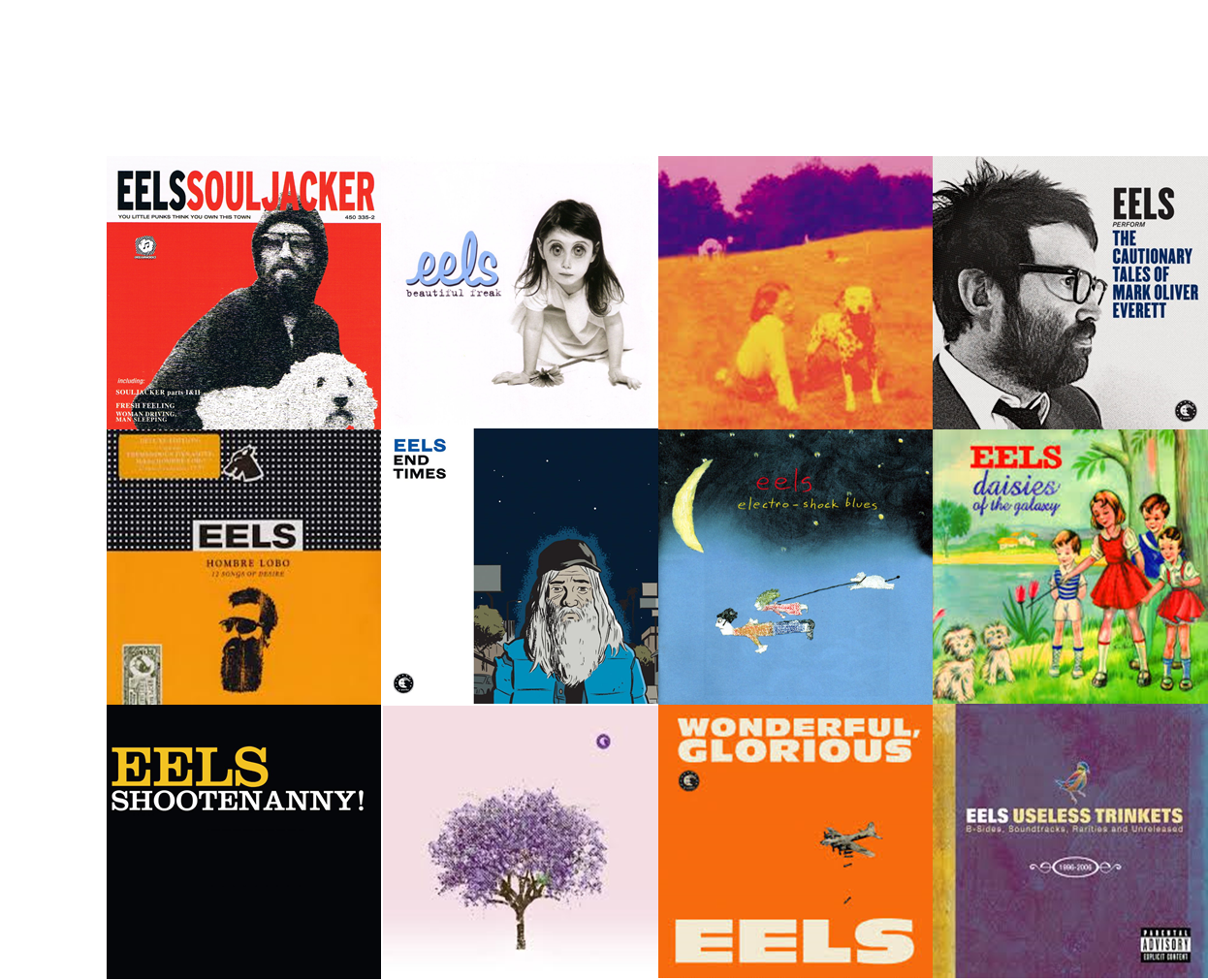 5: Fashion Awards
One of the slightly more esoteric choices here. Fashion Awards is a woozy lullaby of a song, or would be if its chorus weren't the repeated lines 'we'll blow off our heads in despair'. The disconnect between the fashionable society and the socially awkward, despondent Mr. E (or, at least, the character he projects)- I suspect a lot of us have similar experiences- is perfectly matched by the disconnect between his lilting delivery and soothing instrumentation, and the dark lyrics.
6: Fresh Feeling
Turning back to the more optimistic side of Eels, Fresh Feeling is one of my favourite songs about love, or indeed just newfound happiness: 'Birds singing a song, old paint is peeling, this is that fresh, that fresh feeling', all set to those gorgeous strings. Now, after my experiences with R.E.M.'s Why Not Smile (which Michael Stipe claims is not uplifting at all, and actually about people failing to understand depression, like how Shiny Happy People is about Prozac), I'm slightly wary of cheerful interpretations of bands with a penchant for being depressing…but the hell with it, this song's too beautiful.
7: P.S. You Rock My World
Coming at the end of Electro-Shock Blues, this poetic little gem seems to me to summarise Eels' world view: 'I was at a funeral the day I realized I wanted to spend my life with you'. It's another achingly pretty song, awash with strings that at times sound close to What A Wonderful World's opening.
8. Things The Grandchildren Should Know
Also the title of Mr. E's memoir, this is a longer, autobiographical track. It's not exactly something you'd hum to yourself, as Mr. E talk-sings over a subdued guitar backing, but it's a thoughtful, philosophical song that sticks in your mind. I could quote the whole thing, but its conclusion means most: 'And I had some regrets, but if I had to do it all again…well, it's something I'd like to do'.
9: Last Time We Spoke
I include this almost entirely because it has the rare distinction of one of the vocalists being a dog. His mournful howling fits the song perfectly, a brief melodrama encapsulating the maudlin tragedy of heartbreak.
10: Souljacker, Part 1
Souljacker is also the (fantastic) title of the album this savage, driving rock song can be found on. It contrasts effectively with the much quieter Souljacker, Part 2, which calmly states that the 'souljacker can't get my soul'. This is the bitter, cynical side of Eels, brimming with scarcely concealed violence, that informs the band's harder rock.
11: Hey Man! Now You're Really Living
I saved this for last, because it was the song that completely sold me on Eels being one of the best working bands. It's another in the vein of Eels' broken, scratchy pop songs, with an uptempo beat and squeaky saxophones contributing to E's punchy vocals. It's a reminder that life isn't life without heartbreak and pain: 'do you know what it's like to fall on the floor, cry your guts out till you got no more? Hey man! Now you're really living'. I would like to think that, if told everyone thinks I'm a crazy old cat, I too would respond 'hey man- now I'm really living'.
But don't let me restrict your Eels experience. If your curiosity is piqued, go search out all their other amazing songs (though I'll admit the most recent albums haven't yet caught me as much as everything up to Blinking Lights). Try The Man; Saturday Morning; My Beloved Monster; Novocaine For The Soul; Mr. E's Beautiful Blues; Tiger In My Tank; Going Fetal; the list goes on. Because, as Mr. E always sez, 'don't believe anyone, and most of all don't believe me: believe you'.