"Welcome to the John Calvin Memorial Lock-In. What flavour punch do you want?" Next to the two big bowls of the sinful beverage I observed cakes and ice-cream. Which are equally un-Calvinist, but turned out to be fine all the same. And, in the third offence within seconds against my puritanical austerity (hyped-up for the occasion), your reviewer was even offered a plastic fork (which he accepted).
As I discuss their last two events and preview the upcoming one, it will become clear that wilful delusion, punch and cake are the rules by which the organisers operate. Oh, and when they say "lock-in"… it may have been held in Fishtank, which just about qualifies as a bar, but there was certainly no unlawful imprisonment; there wasn't even a large, kitschy ceremonial padlock as a vestige of the tradition.
If it wasn't a lock-in, what then was this "Lock-In"? A title that paradoxical must conceal something, I thought. But I didn't dare approach the organisers, demand explanations and complimentary reviewer cake-and-drink; instead munched and sipped away at what I paid for myself, masking my irrelevance as so often before by re-reading whatever messages were in my phone's inbox. But I would not wait long, or be disappointed.
After an amusing introduction, the first half of the evening was underway. By this time Fishtank was agreeably full, with a few people forced to stand but not jam-packed. We were offered a range of acts: a beat-boxer, some stand-up, a couple of poems and a short set of live music. When done well, beat-boxing borders on the miraculous; it seems that no body could produce the sounds this one did. So too with the stand-up – after a few seconds, both performers had us under their spell. Given all the cheering and laughs that accompanied the above, I was worried for the poet up next, but the audience shifted, and adjusted to her tempo, just as they would for the band which followed her.
Its eclecticism – few events integrate the arts like these lock-ins do – is part of the appeal: what makes these events remarkable is how talented each of the varied performers are. Durham, who would have thought it, we aren't swine, there are pearls and all of that. Despite my gimmicks, you might have realised this review is suspiciously positive. Deal with it, I want to say, as the second half was also excellent – special mention to a bearded poet and that unique but sinister video + music + spoken word combo, Mr Smith.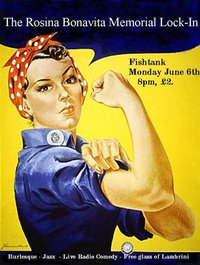 Nor, as you know, is this a one-off. Using the analytical skills developed in my Humanities degree, I assumed the Vladimir Illich Lenin Memorial Lock-In would not have much to do with the Vladimir Illich Lenin we all know (though not necessarily love). So I was taken aback by the early appearance of a man in trench-coat, black tie, and very green morphsuit, holding a picture of VID's face. And the praiseworthy raspberry & friends punch had been replaced by a shot of vodka. Most of all I wasn't expecting Lenin himself.
Of course it was just more post-everything irony: pseudo-Lenin's accent was horrendous, and even though his beard was not fake, he was writing his dissertation (probably on Will Self or Bret Easton Ellis) between his appearances. And yet, while the jokes were comfortingly predictable ("we have organised this gathering of bourgeois music and poetry to discuss the overthrow of the capitalist system") he harangued away with a disturbing passion. As such – a consciously overdone joke parading as a host – he was the perfect emcee for another unapologetically excellent and varied batch of artists. Mr. Smith's return in an even more sinister and meaningless adventure met with great success, as did a rather cute 3rd year's poems and the rock outfit Dreaming for Dinosaurs' set.
More irony to be expected on Monday, as burlesque, operatic singing and feminism meet at the Rosina Bonavita Memorial Lock-In. Promotional videos of the Bolshevik leader suggest that Lenin will be wearing a wig – said videos are available on Facebook for no fee and feature memorial lines like "Osama was ironically very good at hunting terrorists." There will be live, old-time radio comedy (better than it sounds?) as well as jazz piano from a jazz philosopher. With the organisers' proven ability to bring together the unusual and the brilliant, there is much to look forward to this week and beyond.