"Fashion to me is like walking a tightrope, where you risk falling off into the ridiculous, but if you can stay on that tightrope you can achieve a triumph."
Vivienne Westwood
All the way from Beirut to Barnard Castle, Vivienne Westwood's Shoes, An Exhibition: 1973–2011 has been brought to the North East for the UK leg of its worldwide tour. The exhibition, which premiered at Selfridges in London, has now turned global and is currently being housed inside The Bowes Museum in Teesdale. The stunning French-château style building with beautiful surrounding gardens and parks is one of the most important museums outside of London. It famously owns a unique Silver Swan, a musical automaton which is activated every day at 2pm, and boasts an impressive collection of fine and decorative arts by internationally renowned artists such as Goya and Turner.
So how have shoes come to be featured in a museum which displays work from such artistic heavyweights? Although shoes function to protect the foot, Vivienne Westwood's collection of over one hundred styles of shoe taken from her four decade long career are more like works of art than everyday footwear. Westwood's innovative and unique designs prove that shoes can be beautiful, decorative and highly impractical. The exhibition featured in the Fashion & Textile gallery is organised chronologically starting off with designs such as the Seditionary Boot of 1976 which was sold in the shop Seditionaries (now known as Worlds End) originally opened by Westwood and Malcolm McLaren. The store has been credited as the birthplace of punk fashion, with Westwood as a pioneer of torn DIY clothing customised with zips, chains and anarchist slogans.
Westwood, like any great artist, does not shy away from creative risks. She was the first designer to feature customised trainers on the catwalk. Three-Tongue Trainers from her 1983 Witches Collection are an interesting take on street sneakers associated with the early rap scene of the 1980s. She also uses a range of unconventional materials from goat hair to Swarovski crystals to construct her shoes. Indeed, Can Shoes from her Ultra Femininity S/S 2005 collection could be viewed as found object art. The three shoe designs feature platforms and heels plastered with recycled Heineken, Guinness and Coca Cola aluminium drink tins.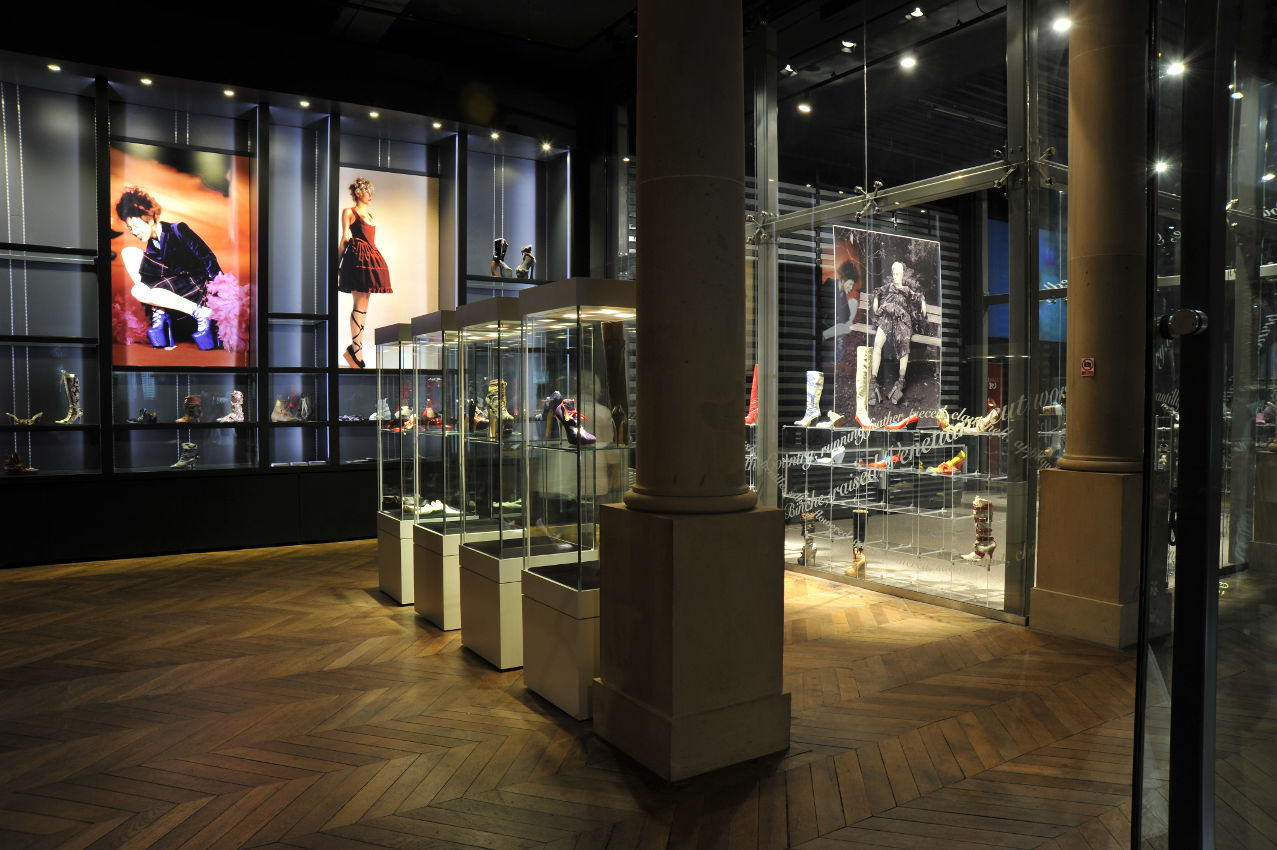 Westwood's creativity can be seen further through the creation of her own textiles and prints. For her 1993 Anglomania collection she designed her own tartan, and this exhibition features Westwood's iconic Pirate Boot from her 1981 Pirate A/W collection. The multi-buckled thigh boot features the distinctive worm-like "squiggle" print which was used on the billowy shirts in the 18th-century inspired collection. Indeed, a key element of Westwood's aesthetic is her historicism. Her gift for borrowing from past styles and making them contemporary helped popularise the New Romantic dandy look of the 1980s. The swashbuckling style of boot was famously worn by Adam Ant in the 1981 music video "Stand and Deliver" and was cemented into mainstream fashion by Kate Moss. It is still in demand today with imitation styles available in high street shops.
As a quintessentially British designer many of Westwood's inspirations have come from past British fashions that she religiously studied in the Victoria and Albert museum. However, she has also taken inspiration from other artistic mediums and cultures. The Toile Print Boot featured in her S/S 1996 collection Les Femmes is inspired by 16th century Dutch Delftware, blue and white pottery objects such as plates, ornaments and textiles made in the region in the Netherlands. The boots also hark back to the 16th century Toile de Jouy style as the white thigh boots are printed with a blue pattern depicting pastoral scenes of farmers with cows, and frolicking men and women.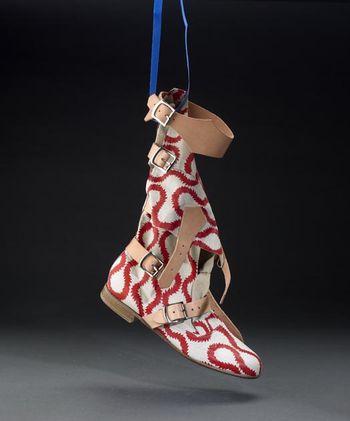 Westwood began her training at the Harrow Art School and, though she dropped out after a term, one can see the artistry that goes into her design work. She experiments with the sculptural possibilities of the platform sole and heel and invents interesting variations in their form. Indeed, the most famous shoe in the collection is notorious for such variations. The Super Elevated Gillie from Westwood's Anglomania A/W collection of 1993, are the blue "mock crocs" with a 10-inch heel and elevated platform which supermodel Naomi Campbell was wearing when she famously fell flat on the catwalk. Romilly McAlpine, the wife of Lord McAlpine (Treasurer of the Conservative Party, 1975–90), was a loyal client of Westwood who displayed the shoes on her mantelpiece like sculptural objects rather than wearing them. Clearly these sky-scraper heels are not the most practical of shoes, but they indicate Westwood's interest in exaggeration, her willingness to take risks, and her defiance of wearability, particularly at a time when many designers were compromising their creative vision and economising due to the recession of the early 1990s.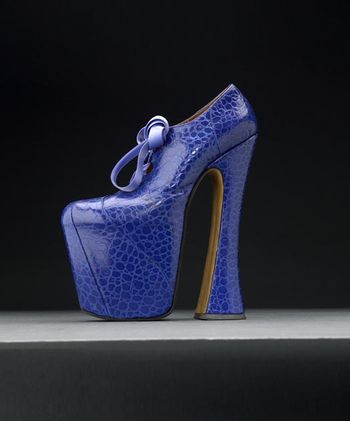 Westwood's shoe designs demonstrate her occupation with altering posture and movement. As a designer she is concerned with how shoes feel to wear as well as how they look. Westwood said, "I don't like the idea of treating women as a sort of art object. The impact should come from the woman herself." She believed that, "Art must be anchored in technique; this means the manipulation of materials – in my case my materials are essentially the human and cloth. It is my job to make the cloth give expression to the body of a human being." The exhibition features Westwood's famous Rocking Horse shoes from her Harris Tweed A/W collection of 1986. The chunky wooden platform acts in the same way as a rocking horse, with a rectangular chink cut out at the back and curved towards the front, they allow movement back and forth. A large photograph on the gallery wall features Westwood's favourite model – blonde bombshell Sarah Stockbridge – balancing on her toes in these shoes. The shoes described by Westwood as "little childish shoes, like sandals but a bit like clogs' give a playful, energetic confidence to the wearer. Indeed, a personal favourite of mine from the exhibition was a shoe in the Rocking Horse style – the Apollo Wing Shoe. The all-white sandal had an angel wing attached to it, looking poised for flight, it played with the idea of movement that the shoes convey. Other interesting sculptural elements in the collection included quirky shoe points shaped like animal toes, and the Hammerhead Toe style which was very flat and square.
Westwood said, "Shoes must have very high heels and platforms to put women's beauty on a pedestal" but at this exhibition the shoes themselves were the main focus. Whether designed for men or women (the collection includes men's shoes from her MAN collection such as the lounge-lizard style Snake Shoe of 2005) these shoes demand to be noticed. Indeed, the exhibition's large flat screen which plays Westwood's A/W 2010 collection Prince Charming makes this point, as the Flame Shoe from the collection caught my attention as its straps flapped out like wings with each step the model took, making it the main focus of the outfit.
Westwood has never been interested in commercial success, with her creativity leading her rather than her bank account, despite many of her designs such as the tube skirt becoming diffused into mainstream fashion. Her work is driven by her superb craftsmanship, an immaculate attention to detail and the conviction that "you have a much better life if you wear impressive clothes". Her shoes, which are at times shocking, are always innovative and aim to inspire confidence in the wearer. Dame Westwood's shoes, like works of art, have changed the way that people think about themselves, by empowering them just as her revival of the corset as outerwear had empowered women.
The Vivienne Westwood Exhibition is at The Bowes Museum from 10 June – 10 July 2011 before being moved on to Japan, New York and China.