The Hatton Gallery and I haven't known each other long, but I'm already very fond of it. To be sure, it's dwarfed in size by the nearby Baltic Centre for Contemporary Art, but she carries a charm in her neoclassical architecture and mishmash collection that's missing over the river at the minimalist ex-flour mill.
Yes, the gallery is of modest size. Yes, it's a little bit shabby. But it's endearing; more "laid-back and student-friendly" than "poor maintenance and low budget" (if you'll grant that the two are distinct). Of course, the constant presence of actual students – greeting you at the door, manning the shop and generally milling around – fuels this impression of a student hangout. The gallery was founded in honour of Professor Hatton, an esteemed faculty member of what is now Newcastle's School of Art, so its relationship with the university is tight. So much so that the exhibition showing during my visit was the university's Fine Art Degree Show. After gathering in the foyer, this was where the tour – run by Northern Architecture but led by a gallery employee – began. Admittedly this part was over quite swiftly, the tour being focused on "behind the scenes" rather than, well, "the scenes".
Beyond the student work, laid out for the assessment of university examiners as well as members of the public, our attention was diverted to the Hatton's only permanent display – Dadaist Kurt Schwitters' Merzbarn. I'm afraid I didn't know that a "merz" was a "psychological collage that contains fragments of found objects, some with autobiographical elements" (thank you, Royal Academy of Arts). Perhaps if I had, I would have had a greater appreciation for the many-textured wall, which was moved in its entirety from the barn in Elterwater where it was created. As it happened, I was too absorbed in listening to snatches of the artist's turbulent career to give my full attention to the work itself, and to reflect on what autobiographical elements might be contained therein. This is one of the compromises of a behind the scenes tour; you are given privileged access to historical information about the gallery, its art and artists, but there is rarely time to apply that information to your own evaluation(s) of the work on display. Yet, what better reason to return?
From the Merzbarn we circled back round to the foyer, where we were introduced to some sculptures by John Graham Lough. You might not have heard of Lough, but if you're familiar with Newcastle then it's probable that you've come across his work before – he's the man behind the statue of George Stephenson near Newcastle Station. The Hatton's pieces are on a far smaller scale, and deal with mythical, rather than historical, subject matter. One of the doorways is flanked by Lough's The Infant Lyrist Taming Cerberus. The infant would be your typical chubby angel-child, if it weren't for the two cleanly-severed fingers on his skyward-stretched right hand. Accidents happen, but in context one cannot help but smile and ascribe this to the hazards of attempting to tame a many-headed dog…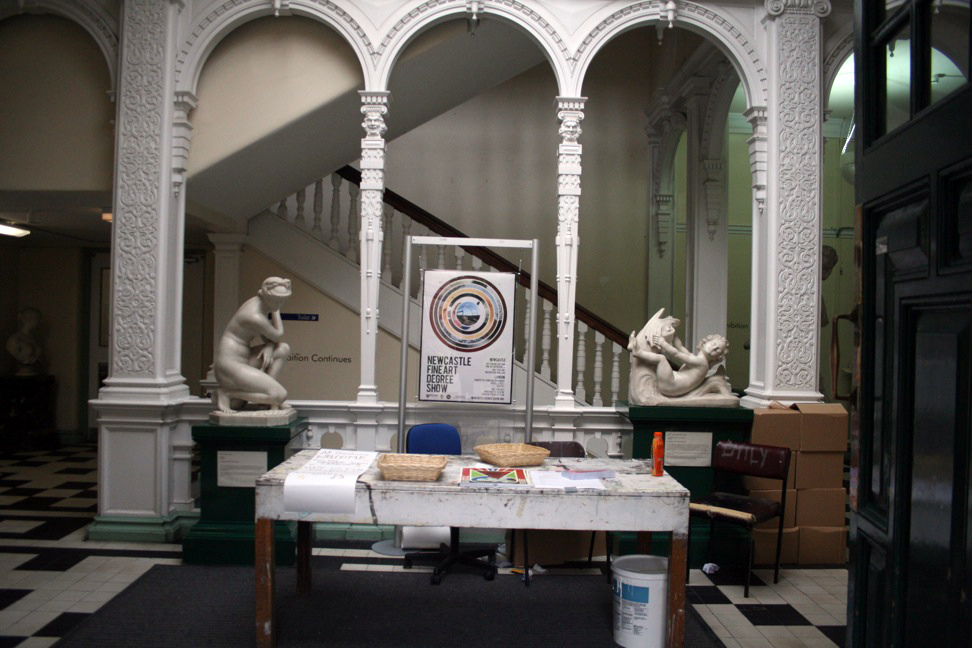 Next up, the truly behind the scenes part: the collections store. A Francis Bacon, stacks of Piranesi etchings, another Schwitters (painting this time), Richard Ansdell. The gallery houses over 3500 works, a staggering figure in light of my first impression of a modest student-focused gallery. To call it modest is to underestimate the significance of its collection, but "student-focused" seems accurate – the collection is very much available for their studies and inspiration.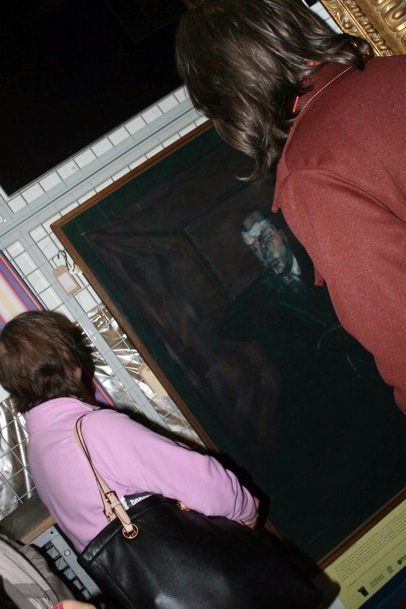 And there is plenty of inspiration to be had – frame upon frame is hung on mesh "walls", tightly packed in a sort of hibernation. We are treated to some highlights: William Roberts' colourful Goatherds, a hunting scene by Ansdell, a large abstract canvas from the 80's by an unknown artist, even a 14th century diptych of St. Francis and St. John the Baptist by Giovanni del Biondo's school. The selection is diverse, which makes it all the more fascinating to see the works in such close quarters. Modern rests alongside classical in a meeting that could never happen outside in the exhibition rooms.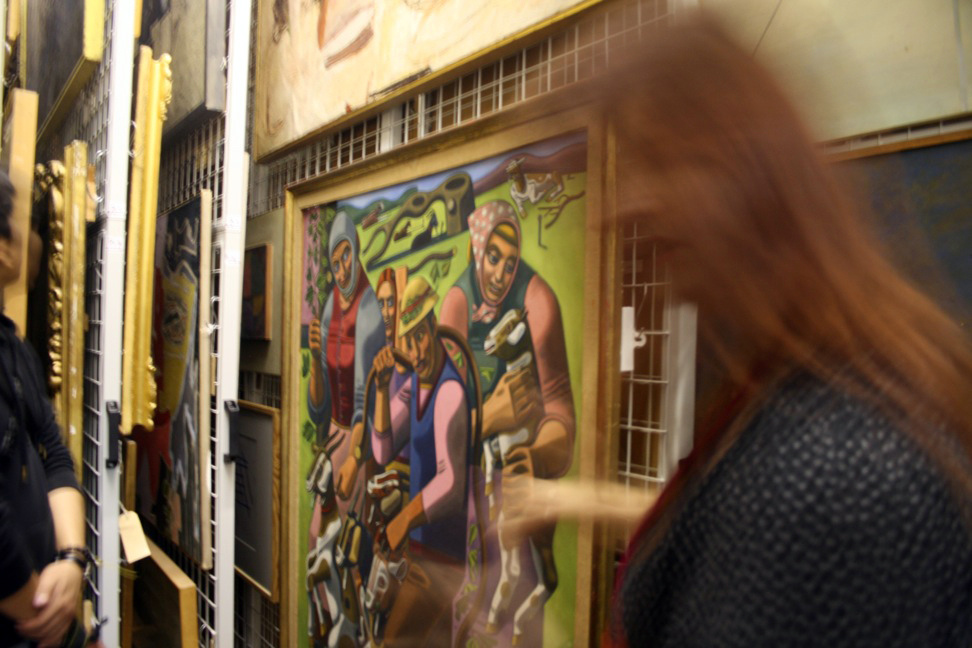 We shuffle out and cross over to the other side of the building to see a display room set aside for research and cataloguing purposes. Inside is a collection of African masks from various countries, bought in Paris to inspire the collector with different, more modernist, representations of the human face (à la Picasso's African period). Also in storage here are a set of William Henry Charlton's sketches and watercolours of the region, with many scenes from North Shields. In the same unit are some incongruous examples of Indian art, vibrant compared to Charlton's muted and thickly-charcoaled landscapes.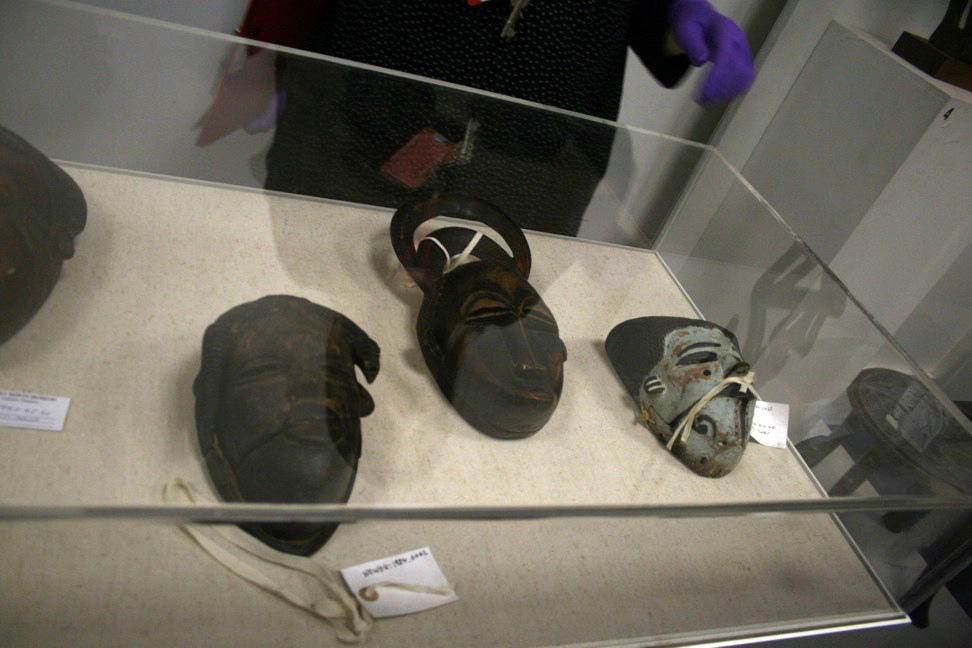 This was the last stop on the tour. I think sometimes getting to see behind the scenes can take the magic (for want of a better word) out of things, but in the case of art galleries I'd venture that the reverse is true. Especially with smaller galleries, often what's on show is merely the tip of a very eclectic and culturally-valuable iceberg.
The Hatton Gallery is located in The Quadrangle, Newcastle University (near the Student's union, just up from Haymarket metro station). Their next exhibition, entitled "Revolution on Paper: Mexican prints 1910–1960", runs from 23rd June to 14th August.
Look out for more Northern Architecture events on their website.